Post by That Duckfan on May 15, 2019 13:26:37 GMT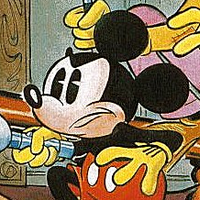 What's so troubling about it? "Don't like don't read" is an old philosophy and one that seems pretty healthy to me.
And that doesn't even take into account that the museum director doesn't seem the recognize Donald in The Son of the Sun, or the fact that Donald applies to work in the museum in The Duck Who Never Was, which is way at the very end of his character journey!

Unless memoyr deceives me, I believe
The Duck Who Never Was
represents a different stint by Donald as curator, as he seems moments away from mentioning "that adventure with that drakkar there" (e.g.
The Golden Helmet
, presumably) when something interrupts him, indicating this takes place post-
Helmet
.
1. I guess so, it comes off as a little defensive to me in the context he mentions it. But again, I can absolutely understand that it's hard to distance yourself from fan reactions as a professional artist, and fan reactions can be pretty intense.
2. You're right on that mark, thankfully. That leaves the characterization of the curator, but honestly he's so different from his character in
The Golden Helmet
that he seems like a different character altogether. Still,
The Son of the Sun
is one of those stories that holds everything in its place. Very, very tenuously.
In other news: I've started to check all the Barks stories Rosa references (or conspicuously avoids), and I've come across the first Barks story that definitely
does not
happen in the Rosa canon! In
An Eye for Detail
, Donald remarks that he cannot be hypnotized (before being hypnotized almost immediately). Therefore, all stories in which Donald
is
hypnotized happen afterwards. Of these stories,
Back to Long Ago!
is the only one directly referenced in Rosa stories (in that he reuses one of the hypnotists from that story). Other stories like
Going Ape
could happen later, but we have no way of knowing.
Now,
Back to Long Ago!
is one of the rare Barks stories that can be dated fairly precisely: the hypnotic sequence Scrooge and Donald dream of happens on December 6, 1564, and Scrooge references this event as taking place 392 years ago. That's too specific a reckoning to set the story anywhere but 1956, when it first came out. The problem? Scrooge dreams about learning of the long-lost mines of King Solomon (which Barks wrote in 1957) and the treasury of Croesus, two treasures proudly displayed in...
The Son of the Sun
! And again we come back to the problem that it's one of the earliest Glomgold appearances, happening before
Return to Plain Awful
, which I don't want to stray too far from
Lost in the Andes!
. If
The Mines of King Solomon
and
The Treasury of Croesus
happen
after
1956, with
The Son of the Sun
even later... I can't make that work!
At that point it's easier to reconcile Scrooge already knowing the hypnotist (since they don't meet in
Back to Long Ago!
), and relegate the Barks story to another universe.
I've seen the Rosa universe referred to as the Barks-Rosa universe, but that sounds more like mutual cooperation than what we can actually accomplish. I'm sure there's a Barks universe out there where many Rosa stories didn't happen, but this ain't it.