Post by The Moose on Sept 25, 2019 18:27:28 GMT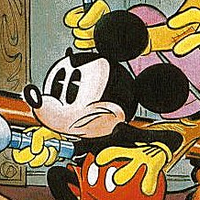 As far as I know, there's no official story supporting the idea that Della and her husband would be dead. On the contrary, there is
80 is Prachtig!
, which was mentioned before. And it should be noted that Della sends HDL to Donald
twice
in the Taliaferro-strips: The first time is in
ZS 37-10-17
, at which point they only stay at Donald's for a few strips, before being sent home again in
ZS 37-11-21
.
Della sends them to Donald once again during
YD 38-05-23
. This time it seems they stay for the long haul. Della tells Donald over the phone: "-and I have to go out of town for a while and I knew you'd love to keep the little dears!" The nephews are under the impression that they'll only be staying for "just a few days".
I've always thought
80 is Prachtig!
is really silly, what with Della being an astronaut and everything surrounding comic books, so I'd prefer another reason for her absence. I do like her being a pilot though (which seems more reasonable than an astronaut). Don Rosa had an idea that HDL's parents were somehow connected to Tralla La.
I guess my not-very-thought-out head-canon is that her going out of town was her taking an airplane trip and crashing in Tralla La. Maybe the inhabitants thought she was some sort of god since she fell from the sky? I don't know.
I assume the father is still in the hospital from the nephews blowing him up or something. But he shouldn't be super hurt, since then HDL would feel really guilty all the time. I like the idea that he's just a jerk, living off of tax-payer money and pretending to be in pain all the time. Of course the American health care system doesn't work like that, but I haven't given this that extra amount of thought.
I would like it if these characters returned (or rather, were introduced!) in the comics. There's much potential in them, and it would shake up the dynamic with HDL... which is exactly why I don't think Disney will bring them into the mainstream. I'm still surprised Della was a thing in
Ducktales
.
exactly. Della was so important in Ducktales and she was so well-received that maybe -just maybe- she could return in the comics, even if for only one issue. About HDL's father, i must say that i don't like the idea of him being Daisy's brother because that would mean AMJ are their cousins. Perhaps Della was a single mother and didn't even had contact with their sons' father? I would see no problem if he was dead though
It's an interesting proposal, but I'd rather not have Della return in main comics continuity. That's mostly because I already have a rough idea in my mind of what the "future" is for the Ducks. My mental timeline, while incomplete and always subject to change, spans all the way to when Huey, Dewey, and Louie are grown adults. Throwing Della in messes things up big time. I'm fine with her coming back in alternate universes like
Ducktales
2017, but I'd rather it not become a mainstream thing. I feel like her returning would just pull more attention away from Donald and mess up the timeline. HDL are Donald's boys, as far as I'm concerned.
If a clever writer can make a tremendous "Return of Della" story, then I'd be interested and excited to see it! Despite this, I don't think she should become a common fixture of Duck comics, and I don't think she should become a part of the main cast. I'm open to having my mind changed, but for now, I'm anti-Della's return.