Post by LP on Jan 23, 2020 21:52:00 GMT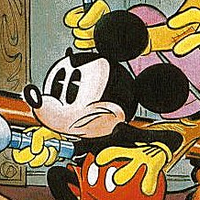 Mac Dux
, "son of the Dux",
Dux
being the Roman name for a leader.) You then have, yes, branches of the family who travel about the world in much the same way as Scrooge, but still think of themselves as a Scottish family, I believe.
I don't mind the Egyptian McDuck being a direct ancestor. However, I won't include him on the timeline since the timeline doesn't go that far back.
According to Paperpedia, chapter 4 features versions of Scrooge, Donald, and the nephews living in the late 1300s. I don't mind having this Scrooge as a brother of the "prime" * McDuck of that generation. The prime's son is this Donald, as well as a parent of the nephews, and possibly another son. Either the nephews' parent or this second sibling would be the prime of this generation. Since the three nephews move to Spain at the end of the story, none of these can be the prime of their generation; that title must fall to either an unseen brother of their's, or a son of the possible second sibling from the last generation. Sorry if that was confusing.
*Note that "prime" is used here to denote a direct ancestor of Scrooge McDuck... his g-g-g-g-grandfather; not a g-g-g-g-g-granduncle.
Anyways, as I said, chapter 4 ends with these McDucks moving to Spain. But even if though they might think of themselves as Scottish, they do not live in Scotland, which I believe is what would be required of them. Otherwise, some descendant would have to have moved back to Scotland around the time Simon McDuck was born, at the latest. Simon McDuck roughly shares the time frame with chapter 5 of
Storia e Gloria
, in which the Spain-branch is still living in Spain. Next up is Mexico, and then Mississippi, and finally Klondike, at which point it clashes with established continuity anyways.
They never go back to Scotland, so I therefore theorize (based on nothing but the Paperpedia articles) that the
Storia e Gloria
-branch split from the "prime" McDucks during the late 1300s.
I hope that made sense.