Post by LP on Jan 27, 2020 21:20:49 GMT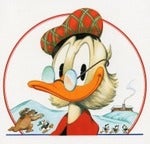 Also, if you're not sure about the placement of Maol Mhuire McDuck— he could be Murdoch's son and Stuft's father, born around 1075. Escpecially if you made Murdoch a little younger there's no need per se for two generations in between (same thing kinda goes for the empty square before Malcolm McDuck).
That story with Roy McDuck and Samuel McDuck I did read once (there was a Comixology localization of it, I believe ). They're the ghosts of Scrooge's ancestors (although the reader only learns at the end that they're ghosts and that they're Scrooge's ancestors, and Scrooge never knows either of those facts). The story is pretty similar to "Hound of The Whiskervilles".
Interesting! So laird-uncles are a thing! Fair enough! Still, if nothing in the Hamish-story explicitly identifies him as a grandfather, I'll keep Locksley in his position.
I originally removed the extra Murdoch/Stuft square, but then I realized where Maol must be placed! His name is MacDuich! According to Rosa's history sketches, the MacDuichs dropped the Gaelic spelling of their name in 1071 and went for McDuck instead. I guess the records from the Maol-story still used his birth-spelling. So he can't have been born post-1071, because then he would have been named McDuck - not MacDuich. Since the alternative is 1085, I placed him in the 1060-spot! Okay, great!
I considered removing Malcolm's father's square too, however I found this guy on the French wiki:
picsou.fandom.com/fr/wiki/Daglas_McPicsou
Seems like he fits as Malcolm's father! I changed his name to "Douglas" in the timeline/family tree.
Speaking of Malcolm's father - I looked through an old Duck tree I made as a kid when I first started getting interested in making family trees. I have Malcolm's father listed as "McHyre". Now where did I get that from? If you Google "McHyre McDuck" you only get some non-existent nonsense link. It's fascinating in it's own way.
I've never heard of Comixology, so I don't know what that means

Do you remember if the Roy and Samuel-story hints at any dates or if their relationship to Scrooge is specified more than "ancestors"?
(Oh yeah, and I added Sir Angus in the (1630-?)-slot. Turns out Picsou Wiki also references the 1600s, so I guess that's accurate.)