Post by Scroogerello on Mar 12, 2020 11:38:18 GMT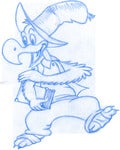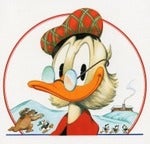 Tabby is not part of Barks' canon
and to me he hardly adds anything that Bolivar (who *is* part of Barks work as the family pet) doesn't. Not to mention that design-wise, Bolivar is infinitely funnier.
But this all again touches upon the point I was trying to make earlier; if you start mixin' and matchin' like this, at what point are they still Duck comics and not just a different comic altogether?
It's like the new DT series, which decided that it would be more interesting to make HDL separate characters, and insert their own main characters like Lena and Violet and bird Hercules. Well, fine, I guess, but at this point they are no longer doing an adaptation of duck comics, they are doing their own cartoon while sometimes having to remind themselves that they have to give a few lines to Donald and Scrooge as well. When tweaking stuff for the sake of "improvement", you eventually get into fanfiction territory, and you will reach a tipping point where you are actually being limited by the fact that you are working on a preexisting property at all, rather than just creating your own comic with some loose influence of Barks work. I think it goes without saying that anyone who's trying to continue the legacy of Barks' work, should use Barks' main characters, just like anyone who works on a new Asterix and Obelix comic should stick to the existing main characters, and not replace Obelix with their own main character named Fred and turn it into "Asterix and Fred".
Doesn't mean nobody should create new characters of course, but non-Barks writers creating/inserting new MAIN characters (i.e. Fethry) or replacing major characters with non-Barks characters that they like better is not respectful to Barks' work (and gives me Scrappy Doo vibes).
Why is Tabby not? Barks introduced him in a early mid 1940s story, and used him one, or maybe even 2 more times. I doubt that Al Hubbard introduced Tabby before Barks did in 1945 or 1946.
Touché! I remember Donald's cat from the "Joe from Singapore" story, but I had no idea he was the same character as the thinking cat from Hubbard's stories.