Post by alquackskey on Aug 29, 2021 1:36:47 GMT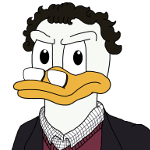 I might not be following you here - my point is that, in many cases, people
are
wrong.
It's one thing for someone to hold a different opinion - if someone legitimately believes something and isn't basing that belief on faulty evidence, there's nothing wrong with it.
I do think that a lot of the 'received wisdom' you cite has an element of truth in it, but as you point out: people are awfully reductive when discussing popular culture. Culture is referenced via shorthand, losing a lot of detail in the process. But it's also a battleground: often times, people just want to argue for the sake of it -- especially online, and
especially
progressives, to validate their own morality. Culture has its way of going in and out of style.
I just wanted to underline what my line of argument is here. I'm not an "influencer". I don't have the gift to influence crowds. I'm here on this little forum engaging with the material on a little deeper level, to get straight where I stand on these movies. If I ever want to contribute to pop culture myself, at least I won't fall into the trap of reductionist and wrong positions. (I was also trying to cut the conversation --- I'm on a schedule, remember!)
When I say that, I mean that each problem is seen as a binary - it's racist or it's not. It's sexist or it's not. So on and so forth...
Now this is a recent phenomenon, and another sign that you've been arguing in the the wrong places again.
For myself (this is starting to become a How To Read That Duckfan 101), I make a distinction in my writing between racist things (like
Tokio Jokio
) and racially insensitive things. In the latter, I can't argue for certain that malice was intended, but I still agree that it looks pretty bad. Most of Disney falls into the latter, being mostly well-intentioned. And then there's dated portrayals, which is different besides.
Plenty of people nowadays aren't actually all that familiar with certain older Disney films; there are many who only know The Aristocats because of Shun Gon, and many would only recognize Lady and the Tramp for the kiss and for Si and Am.
Is that a recent thing? I feel like the older Disney movies were still in popular memory not too long ago.
Ah yes,
Lady and the Tramp
. Well that's a tough one, because it happens to be my most favorite fully-animated feature-length Disney story. I have a vested interest in taking the spotlight away from Si and Am: they're an intrinsic part of a movie I adore.
Doctor Who is another work that falls victim to the dreaded 'gotcha!' - I can't comment much on it, though, because I'm unfamiliar with it for the most part.
Doctor Who is actually the exact opposite of Disney, in that it's possibly the most thoroughly researched TV series of all time. It has a hardcore fandom that is
incredibly
critical and analytical. Disney also has that in a way, but its historians tend to be former (or current) staff writers/animators, rather than outsiders.
(Also, for the record, I found your review of Aladdin to provide plenty of interesting discussion points - I've intended to respond sooner, but I've started a new job recently which has taken a lot of time to adjust to
)
Don't be afraid to go back to an earlier movie, but don't get the wrong idea if my responses trail off. For the time being, I'm still trudging forward.
Up next is
The Lion King
, or
Bambi
with racism.
It's true that discussions on popular culture often end up being distilled for convenience - however,
how
it's distilled is the issue.
Say, the use of the terms 'hero' and 'villain'; they're pretty simple and often seen as interchangeable with 'protagonist' and 'antagonist', despite the difference in meaning. Ultimately, though, it doesn't change much - if someone calls a somewhat morally grey protagonist a hero, it's not all that big of a deal.
However, in terms of issues like racism, sexism and the like, it's much more important.
A work can contain racist elements, but that doesn't mean that the work in itself is racist - for example,
The Apple Dumpling Gang
had some very stereotypical Asian characters that appeared for all of a few seconds. Yes, the use of those characters is racist, but it's absurd to call it a racist film because of two extremely minor characters that have no bearing on the film for the most part.
Compare that with something like
Tokio Jokio
, where the core of the short is mockery of Japan. That's one that can be labelled as a racist work.
I understand that people aren't going to go into every minute detail, but
how
they go about trimming it down is important.
I fully agree that many just want to validate their own morals.
After all, it's a lot easier to say "Hey, remember how racist
Dumbo
was?" than to engage in thoughtful discussion on these topics - and it's easy for others to agree rather than going into the nuances of the film.
This is the only place I'd even be bothered to discuss it - people are quick to make assumptions when you try to have a more open discussion about racism in
Dumbo
or sexism in
Cinderella
.
Ahh, I follow you.
For the record, if you need to cut the conversation short or it's too long to respond, I'd get that!
As for my experiences, it's not so much that I've been arguing in the wrong places - it's more that real life doesn't offer many right places, unfortunately.
I don't know if it's just my area or incredibly bad luck, but the amount of people who I could actually discuss these things with is low.
Many people I know hold the 'animation is for children' mindset. Of the ones that don't, they either aren't very fond of Disney or aren't interested in in-depth interaction with the content - either that, or just not being very familiar with Disney as a whole.
I don't really discuss Disney much online outside of this forum - the only other similar site I browse is Reddit. The Disney subreddits aren't hugely active for discussions, and Reddit as a whole is very prone to hivemind thinking.
So, basically, I don't really get the opportunity to hear from people who want to engage with it in-depth; this is the only place that really allows for it in my life.
I get what you mean about separating racist content vs racially insensitive content, as well as the nuances of those discussions.
I should probably start using the latter label more often myself - I tend to separate it as 'racist content vs content containing racism', but even that misses some of the finer details.
Again, on popular perception, mine might just be slightly skewed because of my area.
For clarity, when I refer to someone being familiar with a film, I mean having seen it themselves - something like
Lady and the Tramp
, for example, is iconic, but many people I know haven't actually seen it. I'm continuously surprised by what people haven't seen or even heard of - for a bizarre amount of people that I've met, the only ones they've seen are most of the Renaissance era, the big-hitters in recent years and a few scattered earlier films.
I'll never forget being in a room filled with other people, off-handedly mentioning Foghorn Leghorn and not having a single person know who I was talking about.
Animated content in general
really
doesn't mean much to people over here
I need to rewatch
Lady and the Tramp
soon - it has a lot of great content in it that sadly gets overshadowed by the controversy.
Ahh, I wasn't wholly aware with
Doctor Who
. I know that it has a devoted fanbase, and I know that said fanbase has been very divided on some of the more recent content, but I'm not familiar with the extent.
I'll keep your point about earlier movies in mind - I probably won't, though, unless I have something that I really feel warrants discussion.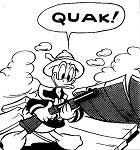 Tokio Jokio
)
Calling Tokio Jokio "racist" is also missing the historical context. It's not anti-people-of-a-different-race, it's anti-the-enemy. It was made in a country that was at war with the nation portrayed. The actual content is actually fairly similar to various anti-commie comedy fare from the 50s, but because the people being mocked in the former are of a different race, it suddenly has to be placed on a far more heinous level? It's political propaganda from a past era that mocks that era's enemy, and should be taken as such.
I follow what you're saying to an extent - to call it racist in the way that some call
Peter Pan
or
Dumbo
racist would absolutely be missing the point.
In the context, however, the enemy are an entire race - as such, "anti-people-of-a-different-race" and "anti-the-enemy" are a pretty closely-linked venn diagram, so to speak.
As a propaganda piece, one of the core points of the short was to belittle Japan and its people.
It's more complex than someone on 4Chan throwing slurs around, absolutely, but mocking another race is an integral element of the short's identity.
That's not to ignore the context it was made in - like you say, it was political propaganda.
Wartime propaganda is a complex issue; when the 'enemy' is another country, it's basically a given that, unless it's solely targeting a specific individual, racism will be involved.
As for your point that "The line for calling something racist should be that your negative feelings towards someone has to do with the fact that they are of a different race." - I'd agree to an extent, but I think there's more to it than that.
Look at
Harry Potter
- it's chock-full of offensive stereotypes: compare how intricately chosen Dumbledore's name was to the one Chinese student being named 'Cho Chang'. How about the Irish student being named Seamus Finnegan and having a thing for explosives? Dean Thomas, one of the only significant black students, whose father left when he was a child?
I don't think that all of these examples could have come from hatred of other races - some were likely borne of ignorance, laziness... not necessarily from outright malice.
Yet, at the end of the day, they're still racist because they perpetuate stereotypes based on the races of the characters in question.
In the case of
Tokio Jokio
, it's just like you say - it was meant to mock them because they're the enemy, not because of their race.
Yet, because stereotypes pertaining to their races were used (Such as the broken English, frequent use of the word 'please', r's instead of l's, stereotypical appearances...) and applied to the entire race, the work can be considered racist.
Compare it to another example within the work - it looks at "Rome's celebrated Ruins" and #1 is Mussolini.
It's not applying any specific insults to the Italian people; it's just an insult to Mussolini.
Also, for the record, I wasn't able to comment on the "anti-commie" fare you mentioned above because I don't think I'm wholly familiar with it.
Do you have any examples?