Post by Matilda on Oct 29, 2020 20:21:25 GMT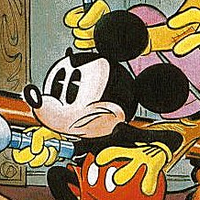 I don't "ship" those two myself, but I've read some fanfics with that pairing, and you actually get at the heart of the 'ship with the end of that paragraph. The idea is that they'd come to realize that they've got fundamentally very similar ethics, surprisingly enough; Magica admiring Scrooge's foxiness in foiling her, Scrooge her grit and determination. Besides which they've got, by the time it is proposed that they realize newfound feelings for each other, a lot of shared history.
And yes, Scrooge is definitely quite a bit older than Magica, but, I mean, "May-December romances" happen. Scrooge is definitely very spry for his age, and he was clearly considered quite handsome by a duck standards, in his Klondike-era prime. If we assume Magica doesn't mind older men, I find her coming to find Scrooge attractive — though it would certainly be love first and lust second in terms of how her feelings would develop.
Yes, they have qualities in common; that's what makes them good adversaries. I'm glad you don't ship them, though. I wouldn't say they have similar ethics; Magica is willing to have her prospective fortune based centrally on a theft. We'd have to sic Bombie on her.... I can see them admiring each other; I believe they do, when they're not directly battling each other. But I can't see them being romantically attracted to each other, for numerous reasons.

Of course I'm aware of "May-December romances" and of the far more common May-December pairings which are not predominantly romantic. I just think that when a powerful man marries a much younger woman, the marriage is very rarely characterized by equality and deep mutual respect. Not never, but very rarely. And I want for Magica a better life than Melania got.

And as for attractiveness... in a sexist society women are thought to have one form of sexual attractiveness: the sort of physical beauty that is at its height in early adulthood. Men have two forms of sexual attractiveness: physical hotness and power. That's why 60-year-old men can be seen as sexually attractive and 60-year-old women cannot. (Generalizing here, about the norms of patriarchy.) Power is *not* seen as sexually attractive in a woman as a general rule; quite the opposite. The epithets attached to powerful older women do not translate as "hot." And from the heterosexual woman's side, the sexual attraction related to a man's power is also all about sexism: she's been socialized to view her happiness and security as compatible with dependency on a man who will take care of her. Being someone's princess rather than a reigning queen. I don't see Magica feeling this way.

Putting aside the attractiveness of power/money, I would say that when I was, say, 35, I never knew a man three or four decades older whom I found sexually attractive on a physical basis alone. Good-looking, yes. Well put together, yes. Charismatic, yes. But hot? The fact that someone was hot 50 years ago does not make him sexually attractive today. This holds true even for Robert Redford and Denzel Washington and other men who were Very Very Hot when they were younger. So I think Scrooge's spryness is irrelevant to the question.