Post by LP on Apr 23, 2021 14:02:48 GMT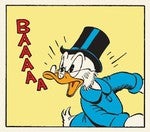 Ocagliostro is presented as Ocagliostro XI in the story, meaning he is the son of Ocagliostro X, who is the son of Ocagliostro IV and so on, until Ocagliostro I; by the way, Scrooge and Rockerduck are said to be his fourth cousins.
About Gilles' missing list, I have already written some of his relatives here in the thread, to quote his first lines:
I TL 313-A - DD's uncle, Buck Paperin
I TL 366-B - US'aunt, Ethelbertha Pap Paper
I TL 582-A - DD's grandfather, Pietrino Paperino; Pietrino's cousin, Tom Paper; Tom's heir, aka GD's distant cousin, Pieretto Paperetto
I TL 691-A - GD's uncle, Amleto
I TL 934-B - DD's aunt, Paperalfonsina
ps. I'm loving the result so far with all the pictures
pps. I would rather not use that image for HDL's father, because it was a portrait of a fan, namely Jamie Hawkins
I don't think it's necessary that Ocagliostro X is the father of XI. X could be many generations back. Just look at British royalty, for example. The current British queen is Elizabeth II, but the first one lived 1533-1603. And they already are fourth cousins in my tree.
Buck, Pietrino, Tom, and Pieretto are already on the tree. I'll add the rest in the near-future!
I agree about the tree looking better with images! It's really coming together! Once again, thanks to you all for the help!
The way I understood Rosa's second tree was that he made a few of them with the image of HDL's father in every print. That's
what HDL's father really looks like in Don Rosa's own world.
However, the father's name was left blank. The named was filled in with the buyer of the tree-print's name at the time and place of purchase.
I agree that the name Jamie Hawkins isn't "Rosa-canon", since that just happened to be the name of the tree-owner who uploaded a scan of the tree. This is why I left the name blank but kept the image. This is the backstory I've read about this tree.
Or do you mean that only one such second tree was made and that it was made specifically for this Jamie Hawkins-fan? And that the father was modeled specifically on him? There's a more "sketchy" version of Rosa's HDL-father floating around that has the same basic design, meaning that this is likely what Rosa considers to be the "true" design of the father.
This is the "sketchy" one:
Hopefully all that was coherent enough to make sense!