Post by alquackskey on Aug 13, 2021 17:02:38 GMT
I really love writing extremely long posts only to have my browser crash when I have a couple of lines left to write. Great feeling. Can't top that.
Anyways, next up is
Song of the South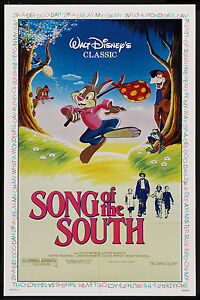 Going in, I knew very little about this film. I had heard 'Zip-A-Dee-Doo-Dah', I was familiar with Br'er Rabbit, Br'er Fox, Br'er Bear and Uncle Remus... and, of course, I was familiar with the controversial nature of the film.
I'll save discussions on that for the end - it's a complicated topic, after all.
The main focus of the film is the relationship between Uncle Remus and Johnny - the former being somewhere between a friend and a father figure for the latter.
It's not hard to see why Johnny takes such a liking to Uncle Remus; Uncle Remus is a wise figure, but is also a playful one. He communicates with a Johnny in a way that he can actually understand - rather than just forcing certain truths or rules upon him. When Johnny attempts to run away near the beginning of the film, Remus plays along and says that he'll join him - when he describes how long of a walk it's going to be and how they'll need to find some food before they go, it puts things into perspective for Johnny.
Uncle Remus is the only character that 'gets' Johnny in that way; as a child, that's something that Johnny lacks - perspective. Rather than simply being told what is or isn't right, he needs to understand
why
.
He's also the character that's the most supportive of Johnny - though not to an extent that he's just allowing everything. When Johnny strikes up a friendship with Ginny Favers, his mother disapproves - mainly because Ginny's brothers are little thugs. Remus is aware of this, and reprimands the brothers when they do wrong, but doesn't hold their attitude against Ginny.
There are multiple ways that Remus does this - and the most prominent, of course, is through his tales of Br'er Rabbit.
I really enjoyed the Br'er Rabbit segments - they serve their purpose in the narrative and are a lot of fun at the same time.
The dynamic between Br'er Rabbit, Br'er Fox and Br'er Bear is great: Br'er Fox wants to eat Br'er Rabbit, often enlisting the help of Br'er Bear to do so. Br'er Rabbit gets himself into trouble, and has to use his wits to escape - usually by exploiting the vices of his foes, or by turning Br'er Fox and Br'er Bear against each other.
Br'er Fox in particular is great - he moves about erratically and he speaks quickly, often repeating things to himself. He's entertaining, but also makes his presence as an antagonist very clear. He has a certain energy to him that I just adored.
Plus, the film could be surprisingly emotional at times; I know that that's a bit of a ridiculous statement, seeing as it's a Disney film, but there were a few occasions where I was genuinely getting choked up.
The final Br'er Rabbit story that Uncle Remus tells to Johnny involves a 'laughing place', and he explains to Johnny that everyone has one. After some time passes, Johnny realizes that he does have a laughing place - Remus' Cabin. When he goes to tell him, he finds that Uncle Remus has left because his mother forbade Remus from sharing his stories with Johnny. Johnny's sad realization that the cabin is empty is just heartbreaking.
He tries to catch up with Uncle Remus to stop him from leaving and cuts through the field - and is attacked by the bull, which puts him into a comatose state.
In the end, it's not his mother or the return of his father that helps him to wake - it's the presence of Uncle Remus.

The presence of (or lack of) a figure like Uncle Remus is something that can greatly impact a child.
Johnny's father is absent, and his mother makes no solid attempt to level with Johnny. When Johnny latches on to Remus, you can easily understand it - he doesn't have that kind of figure in his life. Remus is an adult, but is still someone that listens to him, helps him and doesn't just tell him how to behave.
Many criticize the live-action scenes of the film to be boring, but I disagree; the way the relationship between Johnny and Uncle Remus unfolds is beautiful. You slowly begin to see why Johnny is so happy around Uncle Remus; he's a lonely child. He needs an adult that both cares for him and makes an effort to understand him.
Even now (perhaps even moreso) that's something that many children struggle with - parental figures that are largely absent or fail to understand them in a meaningful way. The presence of a figure like Uncle Remus really does make all the difference - especially the message that, in some cases, the parents aren't always right.
Of course, it's
Song of the South
- you can't discuss it without bringing up the controversies.
The film does contain many harmful stereotypes - however, I think a significant amount of the film's problems arise from a lack of any solid framing.
The film is set during the Reconstruction Era - so, while the people on the plantation aren't slaves, it's highly likely that they
were
slaves at some point. Not that the film does much to communicate this.
There are hints, of course; for one, Remus is free to leave the plantation, and there's also a scene in which Tempy points out how lazy he is (She comments that he thinks that bringing in a handful of sticks counts as work, and he makes no real effort to pretend that he does much). However, they're details that could easily be missed - they're not 'blink-and-you'll-miss-it' details, but they're not really focused on, either.
Plus, there's the fact that the people working on the plantation sing happily - generally, that's asking for trouble regardless, but it's made much worse by the lack of clarity in the setting. It shows an insensitivity - a downplaying of how grim the times were, even for the Reconstruction era. However, the lack of clarity means that they could be interpreted as slaves singing happily - which, obviously, would be horrific.
There are also some elements that I don't think were poorly-intentioned, but are nonetheless problematic.
For instance, there's one scene in which Johnny's mother admonishes Uncle Remus, claiming that his Br'er Rabbit stories are a bad influence on her son. To me, the intent is around her status as an authority figure; ultimately, even though Uncle Remus knows what's best for Johnny, he can't intervene - she's his mother, and as such, she has the final say when it comes to his upbringing, even if she might be wrong. However, the setting gives off a very different impression - that she's a powerful white woman, and he cannot oppose her as an authority figure.
The film is filled with scenes like this; in any other context, it would be simple, with a message that is genuinely important for children to learn (As Johnny's mother is doing something wrong, even though she thinks she's doing it to keep him safe). However, this
isn't
any other context - you simply can't ignore the historical context at play here. It's like people saying that they "Don't see colour" - it may not be said with ill-intent, but it's still genuinely harmful because it downplays the legitimacy of struggles that black people have faced and continue to face.
I do think Disney should be criticized for its fence-sitting with this film - I don't know if I'd be allowed to give Vern Caldwell's quote on here, but it can be found on the film's Wikipedia page. I think it says enough.
However, despite all of this, I do think that the film's reputation is overblown.
I can't see why this film, in particular, is singled out as some abhorrently racist mess when it's not even the worst that Disney has come out with.
I've noticed something strange that comes up in discussions of racism - many haven't actually seen the movie, and many who have will call it racist while bending over backward to defend other racist Disney titles.
In fact, the former is something that plagues media discussions today - for some unfathomable reason, people hold strong opinions on things that they've never actually seen or interacted with.
Both in real life and online,
many
people are extremely vague as to how the film is actually racist - many will condemn it as such without giving any clear reasons as to what the actual problem is. When I watched it, the issues were very blatant - as such, it started to become apparent to me that many people were pushing these opinions without having seen it.
Again, I don't have any issue with people finding the film grossly offensive - or if people disagree with me and think that I've made some incorrect points here - but I don't think such a belief should be held unless someone has actually watched it.
But, to go back to another issue... this really isn't the worst that Disney has to offer.
I watched
Davy Crockett: King of the Wild Frontier
a while back... now
that
was horrific. I'll offer a more in-depth explanation of my thoughts when I reach that film, but I found the portrayal of Native American people, for the most part, to be utterly appalling. That film is still on Disney Plus, albeit with a warning.
Plus, there's
20,000 Leagues Under the Sea
- fairly iconic, and hardly gets any backlash for its racist scenes... not even a warning on Disney Plus!
However, I think there are some appalling concepts present in many Disney films.
I won't look at too many old films, but... Si and Am from
Lady and the Tramp
? They were very much intended as an insult, without a hint of positivity to their characters.
Then there's Aladdin - where the 'good' Middle Eastern characters are based on the likes of Tom Cruise, but the antagonists are more stereotypically middle-eastern?
How about
Pocahontas
? A film that has the
gall
to look at the crimes committed against the Native American people and try to paint it as being 'morally grey' in any way?
Even
Zootopia
compares minorities to
actual predators
.
I'm not really trying to criticize any of those films in particular - my point is that, for some reason,
Song of the South
is the only one that gets hit with the racism hammer, while plenty of other Disney films contain racist elements that are also pretty terrible - and, of the examples I've given,
Lady and the Tramp
is the only example that's gotten a decent amount of condemnation for it.
Now, I know that, outside of the live-action films, this film's depiction of race is more blatantly and pervasively problematic than the others. However, it boils down to the same issue - grossly offensive stereotypes and falsehoods perpetuated by people in dominant groups without (or even ignoring) input from the groups supposedly being represented. I don't think we should get to pick and choose which racism is okay; the film is absolutely problematic, but if one supports it being locked away, then I argue that the above films deserve to be locked away for similar reasons.
I think, sadly, the film's reputation is mainly the product of a sad cultural trend - people pushing opinions that they're not familiar with because someone else said so.
I think that the film absolutely deserves to be criticized - however, I think that it being locked away is too much. If they're going to do that, I have a line-up of other films that need to be gotten rid of, too.
So, ultimately... it's absolutely a product of its time.
That being said, there's a lot of good in the film - the animated segments are a lot of fun.
Plus, there were definitely some messages worth taking from this film - the idea that you shouldn't judge someone by who they're related to. There are times when your parent will make mistakes, even though they have your best interests at heart. That it's important to try to speak to people in ways that they can understand and relate to.
There are elements of this film that are problematic, and should be viewed as such - but the film shouldn't be discarded. Not unless you're willing to throw out a whole host of other ones, too.
(Obviously, this post is treading on some very thin ice - if it's deemed to be too offensive, or if I've made any mistakes or mischaracterizations, I'm more than willing to amend them. If the post has to be removed, so be it, but I'd prefer to have the chance to rectify any mistakes before it comes to that)
Next up is
Cool Runnings
!