Post by Scrooge MacDuck on Jan 25, 2017 19:03:12 GMT
Here is a thread (on my and drakeborough's initiative) to list (and think about) all known appearances or mentions of Grandpa Duck, Grandma's probably-deceased husband, of which there certainly is no shortage.
---
April 1948 — Al Taliaferro & Bob Karp
In the strip Inducks labels as
YD 48-04-10
, Donald is hown to have a picture of "Grandpa Duck" in a secession war soldier outfit. I seem to recall references made on this forum to other strips by Taliaferro where Grandma Duck was shown to still have
confederate
money, which doesn't seem to square with Grandpa Duck being a bluecoat… although, who knows? Star-crossed lovers and all that.
---
November 1959 — Al Taliaferro & Bob Karp
In another strip,
YD 59-11-17
, we see Donald trying to get a raise. His old boss seems to remember "he gave Mr Duck a raise, and the money was spent foolishly". Donald answers that yes, he remembers that, but said Mr Duck was his grandfather. It's not clear whether Donald is lying. If he were telling the truth, it would imply that said grandfather also worked for… whatever enterprise is employing Donald in that strip, which is a little hard to believe.
---
November 1960 — Paul Murry
In the story
Too Much Help
(from
Dell Giant
#38), a picture of a bearded duck wearing a cap and whiskers (yes, Scrooge-like whiskers,
on top of his beard
) can be seen hanging just next to Grandma's bed. It seems a reasonable assumption that it is meant to be a much-cherished portrait of her late husband.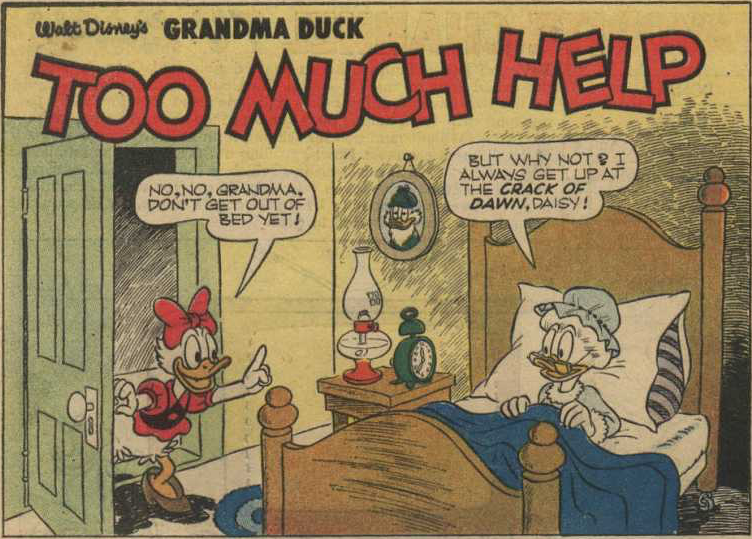 ---
March of 1964 — Vic Lockman (?), Tony Strobl & Steve Steere
Half of the short but memorable story
The Good Old Daze
(from
Donald Duck
#93) is a flashback to Donald's youth, centering around the old Grandpa Duck, who was a lazy but street-smart fellow similar to Donald himself, and always arranged for Donald to be off somewhere else when Grandma was baking pies so he could eat them all himself.
---
January of 1955 — Dick Shaw, Bill Berg, Jack Hannah
The 1955 cartoon
No Hunting
shows Donald living an easy life in his comfortable city house when the ghost of his fierce pioneer "grandpa" climbs down from a portrait over his mantelpiece and prompts him to go hunting. What follows is, of course, a debacle, caused as much by Donald and Grandpa Duck's clumsiness as by the nonsensicality of modern hunting in general. It's not clarified whether "old grandpa" actually refers to Donald's grandfather; after Don Rosa presented his Humperdink, people began to think he might be his great-grandfather or some such.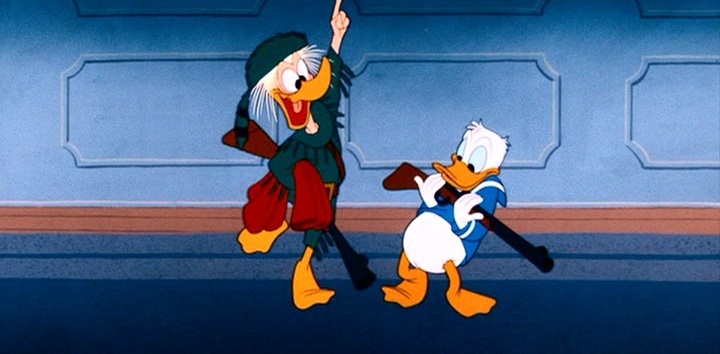 ---
July of 1951 — Bill Wright

In the 1951 story
Grandma Duck and the Charity Sale
(from
Vacation Parade
#2), Grandma is prepared to give various old possessions of hers to a charity sale until she begins to reminesce about how each and every one of them reminds her in some way of the wonderful romantic times she used to have with her sweetheart, Humperdink, who is implied to have become her husband and thus Grandpa Duck.
---
July of 1993 — Keno Don Rosa
In his famous
Duck Family Tree
, Don Rosa first showed the public his version of Donald's grandfather, a goatee-sporting farmer who was apparently meant to fit the bill for a younger version of the Grandpa Duck from
The Good Old Daze
. He called him Dabney Duck, but later came to learn of
The Charity Sale
and had the name "Humperdink" used in later printings of the tree. Nonetheless, he is still only ever called Dabney in
The Life and Times of Scrooge McDuck
.
---
June 2013 — Lars Jensen & Flemming Andersen

As part of the
Tamers of Non-terrestrial Threats
series' tradition to feature a cameo from a very obscure Disney character in each episode,
The Good Neighbors
featured a flashback of Grandpa Duck's encounter with the episode's creatures (pixies living on Grandma's land). The Grandpa Duck in question is modelled after Tony Strobl's Grandpa in
The Good Old Daze.

---
Bonus — Fan Art

A rather delightful fan depiction of "Grandpa Duck" that once graced the readers of the defunct Disney Comics Forum, apparently done by someone called Sim.