Post by djnyr on Jun 24, 2021 1:44:51 GMT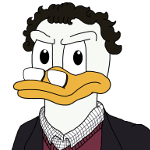 I don't care what anyone says - not only is the Darkwing Duck universe handled poorly, it's probably handled the worst out of all of the adapted Disney Afternoon properties.
. . .
Also, one thing that annoyed me in 'Let's Get Dangerous' - the "C-List Villains" gag was pulled straight from the comics (Complete with Ducktales using Jambalaya Jake and the BugMaster, both of whom were used in the comics gag - even though there were plenty of other options), and I didn't like it there either.
I don't get why there's such a need to rag on some of these villains; Tuskernini, in particular, is a favourite of mine.
I don't see why there's this idea of "If they're not Steelbeak, Taurus Bulba, the High Command or the Fearsome Five, they were lousy and unmemorable".
Alquackskey, once again I wanted to say that it's great to see you back in the thread; your comments are always insightful and well worth reading; I was looking forward to hearing your input on Darkwing in particular, since you've obviously done a lot of thinking about what made that show work. I just wanted to add that I very much like your point about the "also-rans" among Darkwing's rogues' gallery; Tuskerini is a favorite of mine as well. I also wanted to add a caveat to your comment that Darkwing was handled the worst out of the Disney Afternoon properties; I think it was very badly mishandled, but I would say that Talespin's treatment was as bad or slightly worse; Drake Mallard was subjected to destructive character revisions and was largely sidelined by the "stars" of New Ducktales, but the showrunners, at least, made him the focus of his own introductory episode, while the Talespin characters' episodes were not structured around them and really just used them as props and foils for the Ducks--Don Karnage as Dewey's arch-enemy, and Kit as a counterpoint to the Della/Dewey family pilot drama.