Post by Scrooge MacDuck on Jun 21, 2017 12:39:03 GMT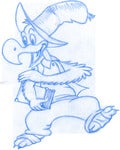 I have a fairly complete collection of Disney comics stories featuring lake monsters
, at least those published in English, French or German.
So, I still don't know how I'm actually going to be able to view the new DuckTales--whether I'll be able to see them when broadcast or whether I'll have to wait until the first season comes out on DVD. Though the fact that GeoX is considering reviewing them as they appear is making me think I'll have to find a way to watch them on initial broadcast. But at least I do know where I'll be able to buy the comics, yay!
I assume that someone would post the news here if there were rumors/indications that Disney was planning to release the as-yet-unreleased episodes of the original DuckTales on DVD. I had high hopes that they would do so, as part of the publicity ramping up to the new series. I want Ducky Mountain High!
I know about Barks' "No Such Varmint" (1951) (actually located in an inlet of The Pacific Ocean, in The Alaska Panhandle), The Loch Eerie Monster (Strobl 1958), and The Loch Less Monster (Barks 1960), and I seem to remember a 1950s story drawn by Jack Bradbury (but maybe there was no real monster, but only a hoax?), and, possibly, a 1990s story drawn by Branca (but did it actually show a monster? - or was it just about Scrooge's ancestral castle?). Was there ever a Disney Comics story about The Ogo Pogo??? My best friend from young childhood moved to the shore of Lake Okanagan, and resided there for almost 50 years, listening to the natives' legends, and stories of sightings and related human accidents and deaths.
I do not know any Ogo Pogo story. I think the "Branca story" you mention is actually
The Crying Monster
, a 1982 Vicar story, which does indeed feature a family of lake monsters. Also, the 1974 Barks-scriped
Be Leery of Lake Eerie
, which, despite the title, isn't a sequel to
The Loch Eerie Monster
and instead features a mutated detritus in Duckburg's polluted lake turning into a monster.