Post by Matilda on Mar 6, 2021 20:23:45 GMT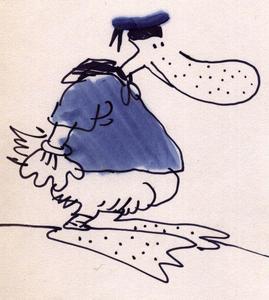 It seems to me that Disney comics fandom has evolved a lot; a lot of discussions in this forum are highly-specialized and focuses on rare materials. Ten or 15 years ago a lot of people would find very strange any mention of Brazilian Disney comics.
Ah, that is super-kind of you! I'd be very happy to get low-res scans of interesting Daisy stories, including Brazilian stories that have her working for the newspaper along with Donald and Fethry. Do you want to message me on Feathery, and I'll send you my email address? I can read French, Dutch and German (in that order of proficiency). I wouldn't pay for a comic written in Portuguese, but if those are the scans you have, I'd still be interested to try to puzzle out the dialogue.

I have successfully ordered a copy of the Journal de Mickey with B 880067, so I should get that in a few weeks. But it's good to know there's a backup possibility on that one if the postal services let me down, because the one I bought was the sole copy of that issue of JM for sale on French eBay.

I wouldn't have sought out reprints of Brazilian stories myself if I weren't always on the lookout for more female characters to fill out the Duckworld--and for better treatment of those female characters I know, Daisy in particular. I've found reprints of Brazilian Daisy stories that I like a lot, as I've said, and have also bought stories about Witch Child (in both character designs). The many Magica/Mim stories don't contribute to my headcanon, though, because in my headcanon they live on different continents and would really not have much at all in common, Mim being totally indifferent to riches. I've admitted Witch Child into my mental Duckworld as she interacts with Magica alone. I'd also like sometime to see some of the Disney Teens stories with Paperetta and her friends. There's at least one that was printed in French, but I haven't been able to find a copy of that issue to buy.

Of course, I would not have been able to find any of these Brazilian stories in a language I could read without INDUCKS! Thank you, thank you, you and all who created and maintain INDUCKS! It has added *greatly* to my enjoyment of my Disney comics fandom. INDUCKS and the interconnected systems of eBays!