Post by Scrooge MacDuck on Aug 24, 2017 10:24:33 GMT
Just thought I'd through it out there that Frank Angones, creator of
DuckTales 2017
, has a tumblr blog where he answers fans' questions, though asking anything too spoilery will presumably get you a sarcastic answer rather than a solid one. A few amusing or interesting tidbits:
---
QUESTION:
How many episodes will season 1 of DuckTales have? *please be more than 20 please be more than 20 please be more than 20...*


ANSWER:
21 half hour episodes plus two hour-long events!


---
Interesting. I wonder if the pilot is counted in the "two hour-long events"…
---
QUESTION:
Will my terrible fanfic OC be in the new "DuckTales?"

ANSWER:
All of mines are.


---
How much of a joke is this, I wonder? Could it be that Angones had cooked up Well-Traveled Teen Lena
TM
, Mark Beaks and Gabby McStabberson long before this show?
---
QUESTION:
Will Webby be shipped with any of the triplets in the show?
ANSWER:
No. This isn't a show about romantic relationships. This is a show about family. Webby is treated as one of the siblings.


---
This wil probably
be of some interest to some.
---
QUESTION:
Who can we expect to cameo first in Ducktales 2017, Count Duckula, famed 1950s American comic star Super Duck, or Psyduck?
ANSWER:
A whole different duck.


---
This apparently means there'll be a cameo by some non-DuckTales duck in the foreseeable future. Darkwing Duck, or someone entirely unrelated?
---
QUESTION:
I love the cast you brought together (David just channels Alan Young) but I'm curious, does this mean Russi's not gonna voice the triplets anymore in the specials and other tv shows?
ANSWER:
Russi remains the non-DuckTales nephews. I'm a huge fan of Russi's; she's an unbelievable talent who can maintain voice while adjusting to the comedic tone of whatever projects the characters are in. Sure seems like we should find something amazingly fun for her on our show, huh?


---
That's to reassure all those who feared for their classic HDL after the new cast was announced!
---
QUESTION:
Is Webby going to have enough traits so my firends will stop calling her a "Mabel ripoff?"
ANSWER:
Yes. Absolutely. She's more awkward than Mabel, and also a bit more competent. Mabel was fearless and self assured. Webby is still finding her footing.


---
Angones's answer to the common criticism.
---

QUESTION:
Why does DuckTales have an "Imagineering Research Library"?


ANSWER:
In order to make our show look more like an old comic brought to life, our intrepid art director Sean Jimenez bought massive pieces of blank, weathered newspaper sheets and had his friends at Imagineering do an impossibly high res scan of it. He then layered it under every background in the show to provide that old comic strip texture. If you look closely, you'll notice the actual newspaper pulp.


---
I… would not have guessed this. It's amazing and more than a little crazy.
---
QUESTION:
Does "22 + 1400 = 87?" means anything?
ANSWER:
Everything means something.


---
You will recall this is one of the mysteries we were trying to solve the other day.
---
QUESTION:
The ending took me entirely by surprise, I didn't expect you to address the mystery of the triplets' mother directly, let alone this early! Was it hard to obtain permission from Disney to tackle this head on? Don't need to tell you how big a deal this is for the canon!
ANSWER:
It was in the DNA of our very first pitch. When they gave us the greenlight, they signed off on the idea too. All families have secrets. It felt like Della was the secret that the studio had been sitting on for 80 years.


---
That's interesting.
---
QUESTION:
What kind of bird is Gabby McStabberson based off of? I can't decide between a falcon or a pigeon. (Am I close?)
ANSWER:
…Is "Grace Jones" a type of bird?


---
So he avoided the question, but that's still funny and kind of interesting too.
---

QUESTION:
Since Atlantis was upside down, why were the lasers positioned under the bridge when Atlantis was supposed to be right side up?


ANSWER:
The bridge bowed the opposite way, but the lasers stayed in the same position. Dewey is dancing across the underside of the bridge. The rope Scrooge zip lines across "under" the bridge was actually the bridge's handrail, and the fire jets were on the ceiling.


---
Yeah, I wondered too.
---

QUESTION:
On your version of Ludwig Von Drake, is he Donald's uncle on his father's side, his mother's side, or spoilers?
ANSWER:
Spoilers. Sorry.


---
That is very good news, because the main way this could constitute a spoiler would be if they are going to borrow a page from Rosa's book and have him be a newly-rediscovered Matilda's husband.
---
Also, Angones formally identified this character as being the Well-Travelled Teen Lena
TM
, rather than a
Quack Pack
-ed up Daisy. Daisy remains absent from the radars.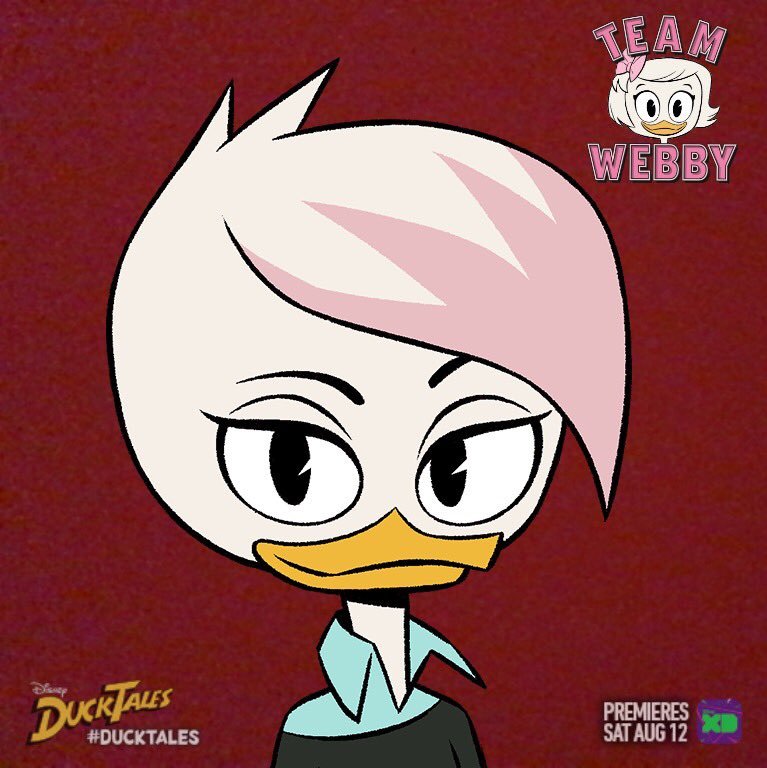 Angones also gave his approval to a couple of fan projects, including one that could very well be canon:
You can also find storyboard and pencil tests on this blog, and aks your own questions!