Post by RobbK1 on Mar 4, 2018 3:53:47 GMT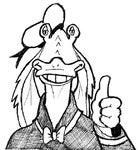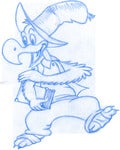 I would place Duckburg near Eureka, and Mouseville near The Mississippi River (eastern) boundary between Calisota and Minnesota (not too far from Duluth). I have no USA (as we know it) in my Duck/Mouse Universe, an ALTERNATE Universe, with a different Planet Earth, and a different development path and history.
Ugh, how stupid of me, of course you're right ... I was too hasty and ended up looking at that map wrong, I initially thought it had Mouseton somewhere in the Northeast, possibly somewhere in MA or NH (where I would imagine Pennecticut to approximately be) but now I see the map is at an angle. I don't think Mouseton is in FL. And I agree that Duckburg is where Eureka is in our world (although a much bigger city which would change the demographics/culture accordingly). But ... Calisota-Minnesota border? Do you imagine MN in a different place in this universe than it is in ours? And why did Barks choose MN as the state to combine with CA in the first place?
Yes, I imagine Calisota's country (whatever that is (not USA not a country in OUR World) is much narrower, with Minnesota lying on its east (Atlantic) coast. I grew up reading both Western's Disney Comics (in Canada, and USA), and Oberon's in The Netherlands. So, Duckburg and Calisota could have been in Canada, USA or the Netherlands. So, I just assumed The Ducks and Mice were in a different, ALTERNATE Universe, and the nation, of which Calisota was a state or province, was never named, but it DID exist. Calisota, despite having embassies (or perhaps, only consulates) was a semi-independent "dependency" of that nation, with a high level of autonomy (even more than The Navajo Nation), more like a protectorate, with only its international relations (mainly military protection and declaring war) handled by that nation's Federal Government, but, even major trade agreements with other nations can be made by the individual states. This federal government is more like The European Union, but even more loosely tied, given the states can trade with other nations.
Barks may have chosen "Calisota" as the state's name, because he wanted to combine the name of 2 existing states, and needed to beastly identifiable, but, also, the ending needed to sound logically like a suffix, or an ending that sounded like a Native American name (a heritage which he used many times in his stories, (often without leaving Calisota).