Post by Spectrus on May 16, 2018 18:29:42 GMT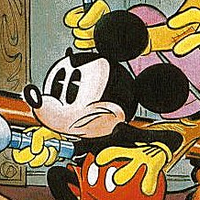 "Ring Thrice and I'll Clobber You, My Lad!" -
inducks.org/story.php?c=D+98058
the ultimate in violence, twisted emotional logic, wrong characterizations and all that other negative stuff
"Rock Around the Clock" -
coa.inducks.org/story.php?c=D+99070
similar in some ways, the "amazon" people are absolutely horrible beings, but Donald and Daisy are pretty awful as well
"The Last Duck on Earth" -
coa.inducks.org/story.php?c=D+2000-088
a gross mischaracterization of Donald, a disturbing apocalyptic scenario
Those are representative for a large part of the respective author's "work", by the way - those just seem to stick out for being ESPECIALLY bad.
Whatever the writing may be, though, the art looks very good from the first pages as shown on INDUCKS. I'm not saying it's Marco Rota, but it's unbelievably more skillful and generally pleasing to the eye than, say,
Bird-Bothered Hero
.
Could you give a summary of
The Last Duck on Earth
, though? Does it have anything to do with the classic Vincent Price film
The Last Man on Earth
? In what way does it mischaracterize Donald? (I wouldn't consider a "disturbing apocalyptic scenario" a flaw as such. Perhaps I wouldn't like it, perhaps I would. I'm all for experimenting with the boundaries of what you can in a Duck story, and if you can do
The Call of C'rruso
, why not an apocalypse with red seas and evil white whales or whtever?)
I hate "The Call of C'rruso" too! With a
passion
! But I was afraid that if I mentioned it, ramapith would criticize me for picking on the Shaws too much again. But yeah, stories like this almost completely turned me off Disney comics as a kid...
Anyhow, Bancells and Pasquale may have certain skills, but both are certainly limited technically (Pasquale arguably more so than Bancells), and their art gives off an incredibly
negative, aggressive and destructive
vibe. Which is of course what Disney comics are all about, right? (/sarcasm off)
Summary of "Last Duck on Earth"? - Donald is annoyed by people and wishes he were alone. In the end he couldn't be more happy to be nearly suffocated in an overly full bus. That's it, really, as for actual content.
But then of course you have all the
nonsense
(which Mr. Gilbert had done before, but never quite to such an effect). There is a "time tornado" that sucks Donald and Helper 10.000 years into the future. The future consists of an empty, destroyed, ugly, polluted, completely devastated planet which has long been abandoned by humanity (the only thing that's left is stones, some buildings, red sea and those white abominations "living" in the red sea). So Donald and Little Helper occupy themselves by playing poker with stones (!). There is some sense of drama when Gyro and the nephews use their time machine device to search for Donald and can't find him at first. This part isn't actually so bad, but it's still bad writing. At the end, before travelling back to the present, Doanld accidentally causes the "time tornado" himself (ooooh, a time paradox!) and it reaches the stupid conclusion.
One of the many awful things about this story is that it never really seems to make much of the apocalyptic scenario; we're just doomed (ahem) to endure it for almost the entire length of the story, but the ducks don't see any reason to perhaps think about our current lifestyle? It's just presented as a given that this is how the future of our planet will look like. Very weird.
With some proper scriptwriting and a better artist it could have been turned into something, but as it stands, it's just horrible.