Post by Baar Baar Jinx on Jan 5, 2019 18:59:37 GMT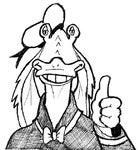 To be honest, I don't know anything about Fred except for what he looks like. I was only half-joking with the Gladstone-connection, but I kinda like it. I didn't even know that Gladstone was in the Fred-story.
With "secret brother" I only meant that we haven't been introduced to the father of Shamrock before.
I might be mistaken in who Fred actually is. Can someone post an image, and the INDUCKS link to the story he appeared in? Is he the cousin of Donald and Gladstone who was in a story from a ten-pager published in an issue of WDC&S that came out early in Gladstone-I's run, involving some kind of painting that he had given Donald who in turn gave it to Gladstone, and they were both trying to get it back so as not to upset Fred? Searching for "Fred Duck" on INDUCKS doesn't turn anything up, but now I learn that his last name wasn't revealed to be "Duck" anyway.
I'm perfectly fine with Fred Gander being Gladstone's brother if there's nothing to contradict it in the story he appeared in, although "Gladstone" and "Fred" are very dissimilar names for brothers to have. Also, do Gladstone's siblings also possess his incredible luck? Something to ponder.
EDIT: Okay, if
this
is the story that Fred appears in, then yes, it's the one I was thinking of, and Gladstone is in it, and IIRC, Fred is described as "cousin" to both of them. So he can't be Gladstone's brother. I don't have the story for easy reference, so I can't confirm whether his last name is mentioned or not, but others on this thread have stated that it is not, and I have no reason to doubt it. This is also the character that some have proposed is AM&J's father; his last name was apparently chosen to be "Duck" by someone constructing a family tree outside the comics.