Post by The Moose on Jan 13, 2019 21:08:42 GMT
As someone who very much enjoys both Barks and Gottfredson, I like trying to find connections between the two, if at all possible, and tie them into one canon. A very strange link between the two has come to my intention, and I'd like to discuss what it means in-universe and what it means in our real world. This link of which I speak is the fact that in Barks' "Race to the South Seas" from 1949, there is a character who refers to himself as "Sylvester Shyster, Mr. McDuck's personal lawyer!" Sylvester Shyster is, as I'm sure most of you know, also the name of a villain from some of Gottfredson's stories! To make it even more interesting, Gottfredson's Shyster was also a lawyer, a corrupt one, but a lawyer nonetheless.
Here are pictures of the two Sylvester Shysters (the images were found online, as I have no easy way to scan the comics I personally have):
(Above: Barks' Sylvester Shyster; Below: Gottfredson's Sylvester Shyster)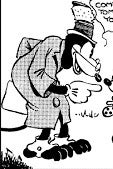 Apart from having dog-like ears, the characters don't look too much alike, but the fact that they have the same name and occupation almost amazes me.
I have two questions about these characters to ask: First off, did Barks intend this? Was his Shyster
supposed
to be Gottfredson's? Was he aware of Gottfredson's? This may sound ignorant, but how much of Gottfredson's work did Barks know or care about? Did he ever make any comments about if he read any of it or not?
Second, is there an in-universe explanation for this? Should we assume that Barks' Shyster and Gottfredson's Shyster are the same person, or are they two people who just so happen to have the same name and occupation? I toyed around with ideas for in-universe explanations, and the most logical to me is that Barks' Shyster is the father of Gottfredson's Shyster, who is really Sylvester Shyster, Jr. My reasoning is that I doubt that Shyster would continue to be Scrooge's lawyer even after going to jail for the crimes he commits in Gottfredson's stories, so, coupled with the fact they are quite dissimilar, I doubt they are the same character. I also find it too coincidental they would just so happen to have the same name and occupation. Thus, I decided that it made sense for them to be a father and son who share the same name and are both lawyers for rich folks.
Anyhow, what do you guys think? What is your in-universe explanation for these two characters having the same name and occupation? What is the real-world explanation? What did Barks' intend? Sorry for making a such long post, but I'm curious to see your responses! Thanks in advance!
Edit: Changed "alone" to "online."