Post by The Moose on Jun 9, 2020 23:23:09 GMT
Well, today, June 9, is the day often recognized in our world as Donald Duck's birthday. Why? Because June 9, 1934 is when Donald made his animated debut in
The Wise Little Hen
. However, as was discussed on
this thread
, Donald actually debuted on radio a few months earlier on March 4, 1934. Furthermore, a character named Donald Duck (not sure if the creators of the more recognizable Donald Duck meant the two to be the same or not) previously debuted in the storybook
The Adventures of Mickey Mouse
Vol. 1 in 1931. It's also been suggested that Donald might have been Disney's retooling of Jimmie Wibblewobble from the
Uncle Wiggily
series, with this character dating all the way back to 1920 (
thread about that topic
). Anyway, we have threads to discuss those matters. I want us to discuss a different issue here. When is Donald Duck's birthday
in-universe
.
We all have different views on what information is canonical, but, for the sake of completion, I'll try to mention
every
hint and clue as to when Donald's birthday is in-universe as long as it is an official source. Basically, I'll try to look at it from an "everything is canonical" approach first and then look at through the lens of my headcanon. Hopefully you all can tell me about more evidence that exists and can also tell me when Donald Duck was born (or hatched) in your headcanon.
Marco Rota's
From Egg to Duck
spells it out for us, telling us precisely when Donald was born, but that date which Donald claims as his birthday varies on the printing, apparently. According to
this website
, the original printing of the story had Donald say that he was born on September 16, 1934. Why? Because this is the date that
The Wise Little Hen
comic strip began. However, the website says that later printings had Donald say that his birthday was on June 9, 1934, not September 16, which was obviously in accordance with Donald's animated debut in the cartoon version of
The Wise Little Hen
. Images from
GeoX's review of the story
prove that one French translation of the story also goes with June 9 date instead of September 16.
At least one other story agrees with the June 9 date. Don Rosa's
The Duck Who Never Was
mentions June 9 as Donald's birthday in the dialogue. Huey, Dewey, and Louie say that the story takes place on Thursday, June 9, and Donald says a few panels later, "It's just my
birthday,
that's all!" Donald later puts down his birthday on a job application as June 9, 19??. The reader doesn't get to see the exact year he put, but it does begin with "19".
However, while
From Egg to Duck
might be right about Donald being born (or hatched) on June 9, it must be wrong about the year. According to
YD 38-11-05
, Donald was old enough to win a pie-eating contest in 1930. There's also
The Empire-Builder From Calisota
to consider. Donald, though still a child, appears at the end of that story, which takes place in 1930 according to most sources. Being a child in 1930 would point to him being born sometime in the early 1920's or the late 1910's, but one source would point to an even earlier year for Donald to have been born in. In Bernard Cosey's
A Mysterious Melody,
we see a temperamental duck living on boat apparently named "D. Duck". Here's an image of that duck, once again from
Duck Comics Revue
:
It's pretty clear that this is Donald Duck. How is this relevant to the issue at hand? Well,
A Mysterious Melody
takes place in 1927, if I understand correctly, placing this scene chronologically
before
Donald's appearance in
The Empire-Builder From Calisota
. Since he's already capable of using a gun and appears to live alone, I would say that the Donald seen here is at least a teenager, which would point to the
early
1910's as the earliest time period for him to have been born in. There's at least one more source which also points to Donald being a teenager or young adult by the mid-1920's. In the 1949 short
Sea Salts
, Grandpa Bootle Beetle informs us that in April 1926, he and a certain "Captain Duck" were stranded on an island after being forced to leave their storm-battered ship, the S.S.
Quack
. This Captain Duck fellow looks like Donald, sounds like Donald, acts like Donald, and is one of the main protagonists in a short that is part of the
Donald Duck
film series. Thus, he must be Donald, right? If so, then we have more evidence for Donald being born circa 1910 at the earliest, which most certainly contradicts what is seen in
The Empire-Builder From Calisota
and definitely contradicts
From Egg to Duck
's 1934 date.
Anyway, while on the topic of cartoons, let's mention another cartoon that helps us decipher when Donald was born.
Donald Gets Drafted
, as the title spells out, is about Donald Duck getting drafted. The date on his draft card is March 24, 1941.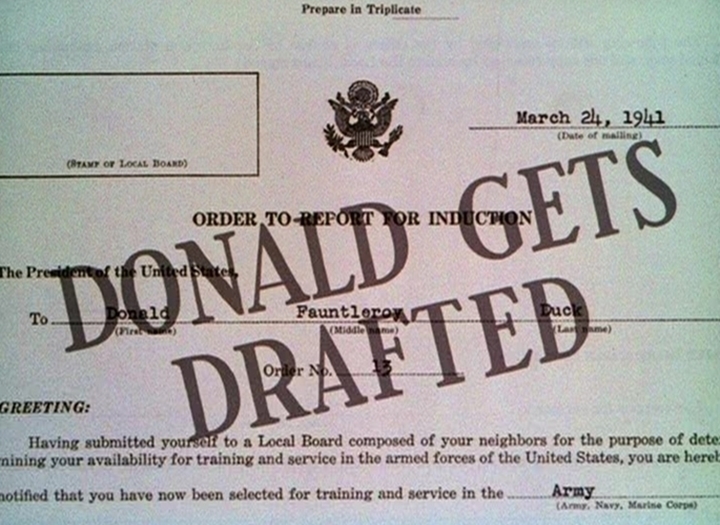 According to
Wikipedia
, it seems that only those aged 21 to 36 were drafted in real life. If this info is wrong, then please sure to tell me. Assuming that the information is correct and that it also applies to Donald Duck's world, then
Donald Gets Drafted
reveals to us that Donald was born on March 23 (or 24), 1920 at the latest, and March 25, 1905 at the earliest.
At this point, I'll bring up
The Empire-Builder From Calisota
again. That story seems to begin in 1909. The narration implies that it begins seven years after the previous chapter,
The Invader of Fort Duckburg,
which, in turn, takes place no more than a few weeks or months after
The Billionaire of Dismal Downs.
According to Scrooge, that story takes place five years after he first struck gold, which was in 1897. Thus,
Billionaire of Dismal Downs
and
Invader of Fort Duckburg
take place around 1902, and
The Empire-Builder From Calisota
begins around 1909. Donald seems to have been born after the beginning of the story. He is not seen anywhere in the story, his father is still his mother's fiance instead of husband, and Hortense introduces Donald to Scrooge for what seems to be the first time at the end of the story. I think it's pretty safe to say that Donald wasn't around at the beginning of the story and was born in 1909 at the earliest. We can now say that Donald was born sometime from 1909 to March 1920.
So far, I've only mentioned two possible month and days for Donald's birth, June 9 and September 16. However, there's yet another potential date for his in-universe birth, with that date being March 13. In the 1949 cartoon
Donald's Happy Birthday
, Huey, Dewey, and Louie have March 13 marked as "Unca Donald's Birthday" in their calendar. Yet another animated source has Donald being born on the 13th. In
The Three Caballeros
, Donald's birthday is said to be on Friday the 13th, though the month is not stated. According to the 1975 illustration/article,
Allo Donald !
, Donald simply celebrates his birthday on every Friday the 13th, regardless of whether or not he was actually born on that day. I'm not sure if this really "counts" in-universe or not. I also seem to remember one website claiming that the storybook
The Life of Donald Duck
says that Donald hatched on a Friday the 13th in winter, but I can't find that website anymore, and I don't own a copy of
The Life of Donald Duck
.
Anyway, assuming that he was indeed born on Friday the 13th and that the calendars in Donald Duck's universe match up with ours, we can come up with some potential birth dates for Donald:
August 13, 1909
May 13, 1910
January 13, 1911
October 13, 1911
December 13, 1912
June 13, 1913
February 13, 1914
March 13, 1914
November 13, 1914
August 13, 1915
October 13, 1916
April 13, 1917
July 13, 1917
September 13, 1918
December 13, 1918
June 13, 1919
February 13, 1920
If he really did hatch in winter, then only the emboldened dates work. If it was really was Friday, March the 13th, then he must have been born in 1914.
Now where do the June 9 and September 16 dates fit in with all of this? Not sure, but I do have an idea. If one believes that anthropomorphic ducks hatch from eggs, then a duck may very well celebrate two birthdays a year, celebrating both the day their egg was laid and the day that they hatched from their egg. Possibly, Donald's egg was laid on one date, and he hatched on another date. Using the March 13, 1914 dates an example, his egg may have been laid on March 13, 1914, while he hatched on June 9, 1914. If one is particularly determined to include the September 16 date, that might be the date of his conception, as September 16 is nine months before June 9 and anthropomorphic ducks might, like humans, take nine months to develop before birth (or hatching, in this case).
Of course, there are issues with the 1914 date. It would make Donald only 12 during
Sea Salts
and a mere 13 when he appears in
A Mysterious Melody
, both of which seem a bit too young. It would also make him 16 at the end of
The Empire-Builder From Calisota
, which seems much too old. Actually, Don Rosa has revealed that he sees Donald being born closer to 1920 than 1915.
At this point, I think I've done the best I can to tell you what official comics say about Donald's birthday, so I'll now give my personal opinion. Personally, I give much more weight to
The Empire-Builder From Calisota
than to
Sea Salts
and
A Mysterious Melody
(which also has some continuity issues with Gottfredson's work regarding when Pluto became Mickey's pet), and I'm also willing to totally discount
From Egg to Duck
since it shows Donald as having been adopted by Grandma, who's not even his real grandmother, shortly after hatching. I would still like to have Donald's calendars match ours, and I would still like to include both the Friday the 13th and June 9 dates, though I'm not particularly beholden to March 13. Thus, I would probably say that either Donald's egg was laid on June 9, 1919 and he hatched four days later on June 13, 1919 or his egg was laid on February 13, 1920, and he hatched a few months later on June 9, 1920.
What are your thoughts? When was Donald born in your headcanon? Do you know of any other stories that give Donald a birthday or give hints as to what year he was born? Be sure to share your thoughts! I wouldn't have created this thread if I didn't want to hear from you about your knowledge and your personal opinions.