Post by RobbK1 on Jan 8, 2017 16:54:48 GMT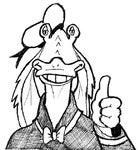 Donald introduces LVD to Daisy as his uncle in the Taliferro strip panel shown on his character page in INDUCKS. And didn't Donald call him "Uncle Ludwig" on
Wonderful World of Disney
? Others will know! Anyway, Rosa wanted to marry him to Matilda because he said it was the only way to get Ludwig to be Donald's uncle. But I'm not sure why one couldn't hypothesize another sister of Quackmore who somehow met the Austrian immigrant when he came to teach at the local university and married him.
Four is not an excessive number of children for someone of Elvira's time and place.
Does anyone know if there's a reason why Rosa didn't go this route?
But you're right, Matilda's lusting after cowboys doesn't fit with her being lesbian.
I've been OK with her being married to Ludwig--they could have married late in life and maintain pretty independent lives, especially when Ludwig is on sabbatical or traveling for research after retirement, as professors do. I could see her finding his bluster amusing. But I'm also OK with her remaining unmarried. I've given Matilda various lives in my mental fanfic.
I'll have to look at "Master of the Mississippi" again--I don't remember Pothole's lady friend. T
That should be the mid to late 1800s, my own grandparents' time. My father's mother was one of 12 children, and my father's father was one of 10. Each one of those families also had one additional child die in infancy. Those 10+ children families were the norm, rather than the exception, for farmers before 1910-1920. Those families needed as many farm workers as possible, and there were only the natural methods of birth control, which they would definitely NOT choose to use, given their need for help on the farm, and, in the case of non-farmers, more still-working sons to help support them in their old age.