Post by Stethoscope on Oct 9, 2019 10:41:49 GMT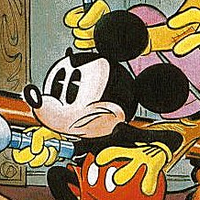 Phantom Blot Bedtime Story
is actually innocent of that sin: it is clear that the Blot's daughter wears the cloak because she idolizes her dad and wants to be like him in any way she can, but it is very clear that it is just a costume. (In fact, she puts similar costumes on her dolls.)
What Egmont stories do you have in mind that explicitly lean into the interpretation of an inhuman Blot, though? I've only ever known of that notion is "a fan misinterpretation arising from the habit of putting a mouth on the hood and of the Blot wearing his Blot mask beneath disguises", not as anything ever actually supported by real stories.
There's a story by Kurt Behnke,
A Tainted Image
, in which Mickey wonders how the Blot could have a brother (who looks like him, but wears a white cloak, and is benevolent!), because he didn't even consider the Blot a human being. He goes on to think (illustrated by the panels) that the Blot might have been the result of some crazy professor's experiment, or (quote) "crept from underneath a stone".
There's also flashbacks of the two as kids, both already wearing the cloaks but much smaller-sized. You never see the parents.
Even later the Blotman two-parter by the McGreals had Mickey wondering about the Blot's identity after finding out that Blotman is Goofy in disguise. C'mon! And in general, it was made clear several times that Egmont preferred the "mysterious" Blot. They never showed the face even once, and even went so far as to mutilate Cavazzano's art on "Casey's Longest Night" by painting over him when he's not in costume (I wrote about it on
joetorcivia
's blog)
and to not print any Italian Blot stories in the pocketbooks for several years...