Post by Scrooge MacDuck on Sept 8, 2018 11:33:53 GMT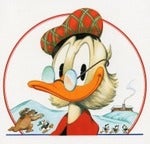 I'll say he does. Donald's freespending nature makes him perpetually broke and is combined with frequent laziness; Gladstone's sucess is a perpetual pie-in-the-face to Scrooge's work ethics by succeeding at everything
in spite of
never working and spending whatever he earns.
Marley is something else entirely: he's Scrooge's philanthropist twin-brother, and, this is key, he is
still
a billionaire and made his money through digging for golds and still works his own mines and has a strong work ethics. He's got all the qualities Scrooge sees in himself as a tycoon,
and
he isn't stingy. With Donald or Gladstone, Scrooge can easily refute their examples by showing that they are a failure and an obnoxious aberation, respectively; with Marley he has no excuse; being his twin-brother who started from the very same place he did, Marley is an example of someone he very well
could
be, and, perhaps,
should
.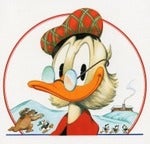 I had a thread on this very forum some time ago to brainstorm a name, and settled on Marley after bouncing back a few ideas. Cratchit McDuck isn't bad either but doesn't have the same duality with Scrooge that Marley does — you don't think "Scrooge and Cratchit" quite as readily as you think "Scrooge and Marley", if only because the Dickensian character is more commonly known as
Bob Cratchit
than just
Cratchit
; and while in Dickens the dynamic is inverted (Marley is Evil-Scrooge, whereas with the Disney characters "Marley" is Good-Scrooge), it's still the same basic principle of the Scrooge and Marley character being symbolically identical people, each a twisted reflection of what the other is or could become.
Again, it's nonetheless just a fanmade name, and I'm open to other suggestions.