Post by sim on Apr 20, 2021 10:10:02 GMT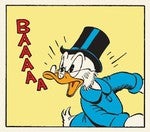 Well, I guess that Pedrocchi's Donald was supposed to be in his 20s if not younger, anyway Paolo Paperis is thought to be deceased in the whole story, so he might be that old even if it doesn't seem. Keep in mind that in 1938 Donald had no known relatives (if we don't count HDL and GU which are contemporary and Pedrocchi may have not known about them), so the artist might not have thought about drawing beard or any other senile feature. And also, Paolo Paperis disguises as his butler wearing a moustached dog mask and he looks indeed older.
No clue about Zamberlukko, probably centuries ago, I'd say 1600/1700s.
LP
: if you mean to respect the intentions of the authors (as you did with Sadstone Gander), I guess you should delete aunt Klazien from your tree. As you can see from
original storyboard
by Gorm Transgaard, the young lady was meant to be just Grandma herself, and the boy a former love interest of her from whom she inherits the farm. To mention Freddy Milton, one of the two authors of the story:
<<Only they [Sanoma] did not have the guts to establish our tale to be the canonized version of the famous Grandma Duck Farm origin story either. In the end those cowards changed the name of the leading character to be a mere relative of Grandma Duck. But in the version you read here things are as they were intended to be.>>
It just seems odd to bring in a great-grandfather. A grandfather I could understand, but a generation older is suddenly weird to me. You don't see great-grandfathers being around, alive and well, in fiction too much. But maybe that's just me.
Thanks for linking the story boards, that's probably the only way I would ever have been able to read that story! I guess the writers intended for Grandma's real name to be Andrea, then?
Anyways, I don't know what my rules are regarding authorial intent. I'm worried I've been sort of inconsistent on the matter.
Sadstone was hard to place because of that.
I've included Rosa's sketch-only McDuck ancestors, even though they weren't ever featured in a finished story. In the end, I think I just want to include as much as possible, so that nothing gets left out... yet, I have elected to leave out Erika Fuchs' made up German translation-relatives such as Seppi Deppi...
I agree on the fact that it is kinda weird, but I used to have a great-grandmother when I was a kid, and her sister left us when I was like 17/18, so it is not impossibile generation-wise (also because the 1800s ducks could have given birth very young, like at 20 or even before).
My guess is that Andrea is just the name the author was familiar with, INDUCKS lists "Andrea Blisand" as her occasional name in Denmark.
Translation-made characters should not be considered since they don't exist in the original text... I don't know if you want to consider Donald's aunt Pin Tail, mentioned in Barks'
Blackmith story
.