Post by RobbK1 on Aug 27, 2022 0:36:54 GMT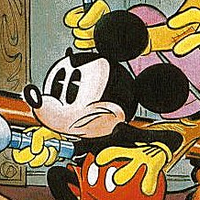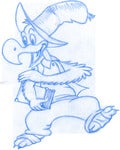 Hupu Ankka means "Hood Duck", and "Tupu Ankka" means nothing in Suomen Kieli, so it is just a name with no origin in the Finnish language (e.g. a name borrowed from Samoan?) So, being named "Permit Duck" is to emphasize Lupu's character trait of doing normally unacceptable things (e.g. always wanting any actions to be permitted by authority figures, so he can be free to do whatever he wants when a whim arises?) Hupu was named "Hood" because he always walks around wearing a hood, or because he is a criminal, sneaking out of his house late at night, after Donald is asleep, and carries out the most fiendish criminal activities??? Tupu means : "to happen" in Samoan. I guess Tupu is just a "Happening Guy"!
I can help if I need help understanding the origin and background of Finnished names. And "Ankka" is a direct translation of the word Duck.
- Aku
Derived from the name Augustus, chosen because it fits well with the word Ankka
- Tupu, Hupu and Lupu
Boys' names are derived from their English counterparts Dewey, Huey and Louie
- Iines
Derived from the name Agnes, the reason for choosing the name is unknown
- Hannu Hanhi
Derived from the name Johannes by abbreviating, "Hanhi" means goose
- Touho
Derived from the word "touhottaa" (in Engl. hustle and bustle)
- Roope
Derived from the name Robert, the name originates in Scotland
- Taavi (Ludwig von Drake)
Derived from the name David, named after Taavi Lehtinen, a lecturer in Finnish Grammar and editor-in-chief of Finnish newspaper in Vyborg
- Julle Ankanpää
Derived from the name Julius, and "Ankanpää" (Duck-head) is meant to be a respectful aristocratic surname like Svinhufvud (Pig-head)
- Sirkku Näpsä
Sirkku is a Finnish female name, but also one group of passerine birds, buntings (Emberiza). The name is originally onomatopoeic and mean schirping. Näpsä is derived from the word "näppärä" (nifty/snappy)
- Pelle Peloton
"Pelle" means clown, but also some crazy or fool person like many inventors, "Peloton" is Finnis word for fearless
- Hansu (Gus Goose)
Derived from the name Hannu that was derived from the name Johannes, the name was changed so it wouldn't be confused with Hannu Hanhi (Gladstone Gander)
- Teppo Tulppu
Derived from the name Stefanos, name Tulppu comes from that Jones grows tulips ("tulppaani" in Finnish) in his garden
- Kultu Kimallus
Kultu is a term of endearment for the Finnish word kulta (in Engl. gold / dear / beloved) and "Kimallus" is Finnish word for glittering
- Piri Pösö
"Piri" is a slang word for anphetamine pill and "Pösö" is a slang word for boss (but I've never realized what is so funny about this joke that the mayor is a drug lord)
- Kulta-Into Pii
Derived from "Kulta" which is gold, "Into" which is zeal and "Pii" which is the flint
- Kroisos Pennonen
Given after king Croesus, and the name Pennonen is derived from the word "penni" (in Engl. cash / coin)
- Karhukopla
"Karhu" is Finnish word for bear and "kopla" is Finnish word for gang
- Milla Magia
Derived from the name Aemilius or Ludmilla by abbreviating, "Magia" means magic
Thanks Maline, for explaining the Finnish origins of the Finnish names ALL the major Disney Comics, other than the very (and ONLY) characters I asked about. Your explanation does not explain WHY Hupu, Tupu, and Lupu were chosen, as they are only sounds, and don't mean anything in The Finnish language, and the don't sound enough like "Huey", "Dewey", and "Louie" to convince me that they were named after their original English names, as they are not similar sounding to the English names, and even if you just mean that having the first letter (character) of their English names, only 2 out of the three have that. And EVEN if all 3 had the same first sounds, they should be REAL, EXISTING Finnish names that have those first sounds. Their Dutch "names" (Kwik, Kwek, and Kwak) also don't mean anything, as they are just based on sounds. But, at least, they are sounds that ducks make. So that makes some sense. "Huey", diminutive for English "Hugh", comes from the Germanic "Hugo", which means "mind" (e.g. great mind or thinker). "Dewey" comes from the Welsh, "Dewydd", or English "David" (ultimately Hebrew Da-Veed - which means "Beloved". "Louie" is the diminutive of "Louis", which derives from the Old French "Clovis", and before, the Germanic "Chlodovech" - which means "revered or distinguished warrior". Perhaps those words translated into Suomen would be too long to have the necessary snappiness rolling off the tongue when referring to all 3 boys, in order, at the same time. Assuming that is the case, why didn't the Finnish editors find existing Finnish shortened, diminutive, familiar names that were closer in sound to "Huey, Dewey, and Louie", or use 3 slight variations of the Finnish sound effect for quacking? I guess that puoskari wouldn't work because we want only one syllable for each name. What sound effects do they use for quacking in Finnish stories?
For "Huey" they could have used "Heikki", or "Harri". For "Dewey" they could have used "Domi" (short for Dominik), or "Taavi" (short for "David", and for "Louie" they could have used "Lari" or "Lavi". Harri, Taavi, & Lavi rolls off the tongue nicely, sounds very good, and they are real Finnish boys' names. The way I understand it, their existing names are just sounds, that don't seem to have any relationship to ducks. Am I wrong in my understanding?