Post by Zantaf on Jul 1, 2017 12:40:33 GMT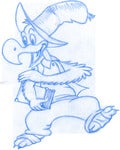 Also, there's nothing in the story about him being a newcomer in Duckburg. It seems that the french translators, failing to recognize the character, made everything up! Also noticeable is the presence of Chief O'Hara (!) at the Duckburg Chamber of Commerce meeting!
Edit:
Regarding Rockerduck eating his hat: First of all, here's the
Inducks link
with all the Rockerduck appearances in chronological order. I just went through the earliest stories in my collection (which is far from complete as I only have all the stories that have been published either in Greece or in the U.S). The earliest story that I found in which Rockerduck eats his hat is "
Zio Paperone e il segreto di Villa Mistero
" (I TL 649-A) by Guido Martina & Romano Scarpa from 1968. Martina wrote only two stories with Rockerduck before that and I do have them both: (
I TL 627-C
&
I TL 638-B
). He doesn't eat his hat in any of those. Of course that means nothing as the notion might have originated in a story I don't have (either Italian or S-coded) by another author and Martina just decided to adopt it in his third ever Rockerduck-featuring story. But if that isn't the case, then I TL 649-A is a good candidate: In the very next Rockerduck story drawn by Scarpa, "
Zio Paperone e il traguardo difficile
" (I TL 667-A, with script not by Martina, but by the Baroso brothers) Rockerduck does not eat his hat! And while I'm missing the next Martina one (
I TL 671-A
) as it was never published in a language that I can read, in the following Martina story, "
Paperino e il bacio della gloria
" (I TL 673-A) Rockerduck is seen eating his hat again in the finale! Furthermore, in the next story, which was not written by Martina, "
Paperino e l'inevitabile ricaduta
" (I TL 678-B, script by either Osvaldo Pavese or Giulio Chierchini) Rockerduck predictably does not eat his hat! So a pattern emerges and here is my hypothesis: since from the stories mentioned above, only in the Guido Martina ones does Rockerduck eat his hat, the notion started with the third ever story that Martina wrote with Rockerduck in it, and that is I TL 649-A. (Which of course, as
Scrooge MacDuck
mentioned above, is inspired by Glomgold eating Scrooge's hat at the end of The Money Champ). If anyone has further knowledge on the subject, please feel free to support or disprove my hypothesis!
The first Barks use of the hat eating gag as punishment for losing a wager (bet) seems to be the 1958 Christmas Parade story featuring Ollie Eiderduck eating his hat because Scrooge's tree topped The Clock Tower. Then, a year later, Glomgold had to eat his.
You are right, I completely forgot about Ollie Eiderduck eating his hat in "Christmas In Duckburg"!