Post by TheMidgetMoose on Feb 3, 2020 20:44:05 GMT
If we already have a thread dedicated to this topic, I do apologize. I couldn't find it.
The KKM
, feel free to move this if necessary.
In this thread, I would like us to, if at all possible, document all of the siblings of the major Mouse/Duck characters. With the exception of the Duck family tree, I feel like we don't talk about character's siblings enough. We all know that Donald's twin sister is Della, there's been plenty of discussions on here about Scrooge's siblings, everyone knows Huey, Dewey, and Louie are siblings (and most of us probably know about Phooey and "Kablooie", too), and so on and so forth. In this thread, while I will mention Scrooge's siblings and Donald's sibling(s), I'd like for us to also look at more obscure characters and siblings of Mouse Universe characters like Goofy or Mickey.
Siblings are likely to have played an important part in the childhoods of the characters we all know and love. I think it could be argued that siblings typically (though not always) make a bigger impact on one's life than the plethora of Disney uncles and aunts we've become accustomed. These sibling characters are, in most cases, important to the life stories of our favorite characters. While they may not be important characters in and of themselves, these sibling characters, in my opinion, will be interesting to learn about.
I'll start us off with a list of all the "siblings" I know about. I'll give a heading for each major character whose siblings I plan to cover. The names of the siblings will be in
bold
, and any siblings that are theoretical (as in, I'm not sure if they actually exist, I haven't read their debut story, or I'm just speculating about their existence) will have a
(?)
question mark behind it.
I'd love to see any of you add any other siblings you know about. Even hints that siblings exists would be neat, like a character mentioning they grew up in a large family or something. On the other hand, I'm also interested in knowing of any hints that a character does not have siblings. Maybe someone once mentioned that they're an only child or that they have no sisters. I'm interested in hearing about that as well. Thanks in advance!

Donald Duck
I'll start us off with probably the easiest to remember and most well-known. We all know by now that Donald has a sister,
Della Duck.
Need proof? From
The Empire-Builder From Calisota
by Don Rosa:
Other than Della, I'm not sure if there's a whole lot of evidence to indicate that Donald has any other siblings. There are a few things here and there, but not much, which I'm fine with since I like imagining Donald and Della as having grown up together without any other siblings. The first possible non-Della sibling is
Dumbella (?)
.
Dumbella is the name of Donald's sister who sends Huey, Dewey, and Louie to visit Donald in the
Donald's Nephews
short. Technically, it's never specified that she is Huey, Dewey, and Louie's mother. Maybe HDL were staying with her, but she decided she had enough of the little hellions for the week (or however long the stay was) and sent them over to Donald's instead. The other possibility, which is probably the most excepted among fans, is that Dumbella is just a nickname for Della. Anyways, the case for Dumbella being a second sister of Donald's and a separate character from Della is exceptionally weak, and I'm not arguing that it's true, I'm just putting it out there as a possibility.
Apparently, Erika Fuchs' German localization of Carl Barks's
High-wire Daredevils
has Donald mention, in the words of the Scrooge McDuck Wiki, "'Huey Dewey and Louie's uncle '
Seppi Deppi (?)
', who hurt himself while tightrope-walking". Since this is a translation and not the original Barksian script, I suspect most of us will take this reference with a grain of salt. Even if one does accept that HDL have an uncle named Seppi Deppi, this doesn't necessarily mean ol' Sep Dep is Donald's brother. He could be related some other way. Anyway, in his Duck family tree, Johannes Grote did include Seppi Deppi as Donald's brother. He also chose a portrait from the background of Barks one-pager
Noise Nullifier
to represent Little Deppi. Here is that Barksian portrait which Grote identifies with Fuchs' Seppi Deppi.
Other than these, I don't know of any other siblings of Donald's. If one wants to identify Donald with the "Jimmie Wibblewobble" character from
Uncle Wiggily
stories who might have inspired Donald's creation, then he has two other sisters,
Lulu (?)
and
Alice (?),
but there's not really much to suggest that Jimmie Wibblewobble and Donald Duck are in fact the same in-universe even if the former inspired the latter in our real world. The argument for Lulu and Alice being Donald's sisters is incredibly weak, hence why I haven't bothered to include pictures of the Wibblewobble sisters.
Scrooge McDuck
Don Rosa established Scrooge as having two sisters,
Hortense McDuck
and
Matilda McDuck
in several of his stories. There's no doubt that they are his siblings. This is established well enough that I don't think I need to post a panel to defend it. It could be argued that they are half-siblings or adopted siblings, but there is no doubt that they
are
his siblings in one way or another. Here they are in
The Sharpie of the Culebra Cut
by Rosa.
Gideon McDuck
, a character created by Romano Scarpa, is undeniably supposed to be Scrooge's brother. See this page from his debut,
Shellfish Motives,
where he refers to "mio fratello Paperone", which translates to "my brother, Scrooge".
Grandma Duck
has been shown as Scrooge's sister in a plethora of stories. There's too many instances of the two being portrayed as siblings for me to document here (we already have a
thread
on the topic actually). Here's a 1960 illustration mentioned on that thread. If I remember correctly, this is one of the earliest instances of Grandma and Scrooge being portrayed as siblings, as the text (by Guido Martina) that accompanies it refers to Scrooge as Grandma's brother (though I'm not sure that text reads that in the version below… just check out the other thread if you need to be convinced).
Rumpus McFowl
is Scrooge's paternal half-brother according to William Van Horn's
Travails,
if I remember correctly. He is the son of Fergus McDuck and a woman who is not Scrooge's mother.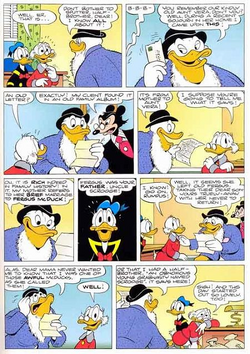 Hortense, Matilda, Grandma, Gideon, and Rumpus are the only siblings of Scrooge who have been developed significantly or used semi-frequently, though Scrooge does have at least one other sibling. According to Gudio Martina's
Paperino e l'uomo del West,
Scrooge has an identical twin brother, "
Mani Buche".
Various fan names suggested for him include Cheeryble and Marley.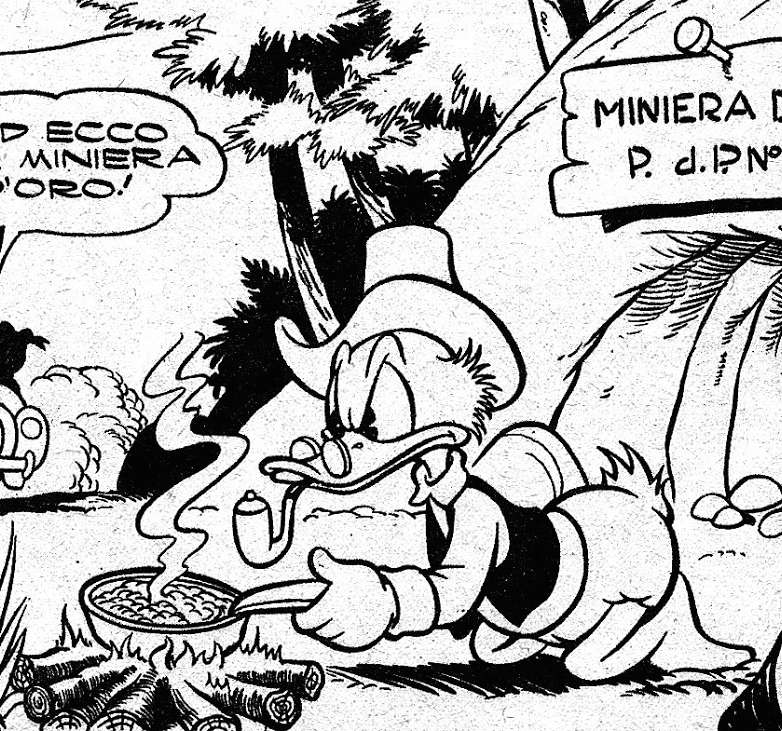 As far as I'm aware, Matilda, Hortense, Grandma, Gideon, Rumpus, and Scrooge's twin are the only official siblings of Scrooge. A brother of Scrooge is mentioned in a strip illustrated by Al Taliaferro, but this could very well be retconned to be Gideon or Scrooge's twin. There is a possibility that
Evelyn McDuck (?),
an aunt of Donald's in
Feline Felony
who apparently states that Donald is her only nephew (though I haven't seen a scan to prove this yet), is Scrooge's sister. That Evelyn is Scrooge's sister was assumed by Duck genealogist Asger Pedersen in his Duck family tree, but Gilles Maurice placed her as a daughter of Quagmire McDuck. Neither of those are official sources, of course, but I think it proves that there is no definitive answer as to where Evelyn is on the McDuck family tree.
Daisy Duck
Daisy has
three unnamed brothers
in
Donald's Diary.
The three are very similar in design to Huey, Dewey, and Louie. The following may not mean anything since
Donald's Diary
shows Daisy's feathers as having a pinkish tint to them, but these brothers have a more yellowish tint to their feathers than Huey, Dewey, and Louie. That's the only major difference in appearance between Daisy's brothers and HDL as far as I can tell. Also, these boys are specified to be Daisy's brothers. The short does not indicate in the slightest that they are related to her in any other way. Daisy explicitly refers to them as "my brothers", so their relationship to her isn't really in doubt.
There's been a fair amount of speculation about these boys. There's one major theory regarding them which I'll get back to in a little bit. Anyways, there is one fan theory I'd like to talk about. In the
Daisy Duck family tree
by crafted by
xanderares
, he identifies the brother wearing the cowboy clothes with both
Seppi Deppi Duck (?),
who, as we discussed in the "Donald Duck" section, originates from Erika Fuchs's translation of
High-wire Daredevils
by Carl Barks where he is referred to as an uncle of HDL's, and one of Donald's unnamed friends in the
This Is Your Life, Donald Duck
comic by Vic Lockman. He identifies the brother dressed as an astronaut with
Cosmo Duck (?)
from another Lockman story,
The Overnight Hero
. He identifies the brother dressed as a Native American with
Danilo Duck (?)
another character from
The Overnight Hero
.
It is also certain that Daisy has at least one
unnamed sister,
as she mentions her in Barks's
Flip Decision.
This sister is almost certainly the mother of April, May, and June, as the three ducklings are seen at Daisy's sister's apartment.
xanderares
has theories about this sister as well. He identifies her with a variety of female ducks seen in various stories (as can be seen
here
), but I think the identification that has the most weight to it is with an unnamed female duck seen in Bob Gregory's
The Birthday Booby Trap
. This duck attends Scrooge's birthday party, so she must be close to the family somehow. She also has a fashion sense not unlike Daisy's at all, so while there's no concrete evidence in this direction, it's certainly not a stretch to identify her with Daisy's unnamed sister. Her picture can be seen below.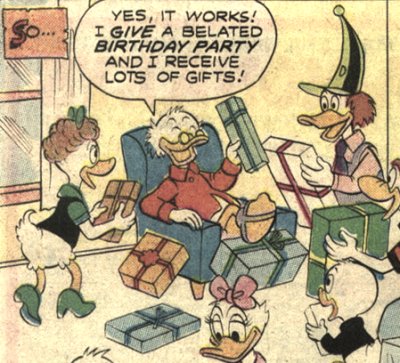 Xanderares suggests that her name is "Fred" or "Frederika" based on Monique Peterson's Duck family tree.
Scrooge MacDuck
seems to like the name "Rosa" for the character, based on
this thread
.
Anyways, Daisy might actually have a
second sister,
too. In
YD 41-11-21
, Daisy says she is running an errand for her sister. This is in the context of a series of strips that show Donald, Huey, Dewey, and Louie visiting Gus on his farm in Honking-on-the-Hudson while Daisy's niece Dottie is nearby. Since Daisy's Barksian sister lives in an apartment in Duckburg and not in Honking-on-the-Hudson, it stands to reason that this is a second sister of Daisy's. This second sister is probably the mother of Dottie, who appears in at least one of these Honking-on-the-Hudson strips, and maybe even the mother of Floretta, another "Daisy's niece" character who I believe I was said to have been from a rural area, though I don't remember for certain...
xanderares
has theories about this sister. He refers to her as "Diana".
Gladstone Gander
Frankly, the whole situation regarding Gladstone's siblings, or lack thereof, confuses me. I'm not sure that an official "Gladstone's sibling" character even exists. A "Gladstone's sibling" character
could
have officially existed, but, if I understand correctly, Egmont disallowed it. I'll touch on that later. First, let's talk about the somewhat weak evidence we have that Gladstone does indeed have a sibling, that being his nephew, Shamrock Gander, who first appears in
this Strobl-drawn story
. Obviously, the term "nephew" usually means the child of one's sibling, but, as has been discussed on this forum many times before, it can sometimes be used in a looser sense. While I do find it most likely and easiest to assume that Shamrock is indeed the son of a sibling (presumably brother, since the two share the same surname) of Gladstone's, what I'm trying to point out is that, for instance, if there exists a story which states Gladstone is an only child, this wouldn't necessarily contradict Shamrock's existence as Shamrock may be a slightly more distant relative.
At any rate, there a few theories floating about for possible brothers for Gladstone. I don't know of any theories regarding sisters, curiously enough, though I guess that makes some since as there aren't a lot of female cousins of Donald or granddaughters of Grandma seen in the comics. Anyways, I'd reckon the most notable possible brother is
Sadstone Gander
, mostly because he was originally written to be Gladstone's unlucky twin brother who ran away from his family years ago so that they would not be harmed by his ridiculously bad luck. He appears in
The Dark Side of Luck,
written by our very own
RobbK1
.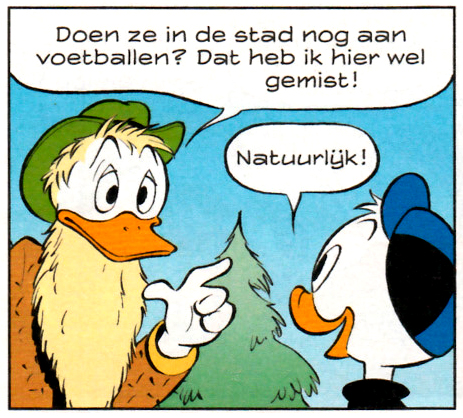 As it turns out, Sadstone has such bad luck that the fellow didn't even get the honor of being referred to as Gladstone's twin brother in his debut story. Instead, the character was changed to a lookalike cousin. Whether we should see him as a brother or cousin in-universe, I'm not sure. I hate to disregard what RobbK1 originally intended, but at the same time, we can't really say that he's an "official" brother since the official publication of
The Dark Side of Luck
refers to him as a cousin instead.
From this point forward, the Gladstone brothers start to get pretty speculative. The character who might have one of the best cases for claiming to be a Gander brother is
Oscar Gander (?)
from
Zio Paperone e l'amuleto su misura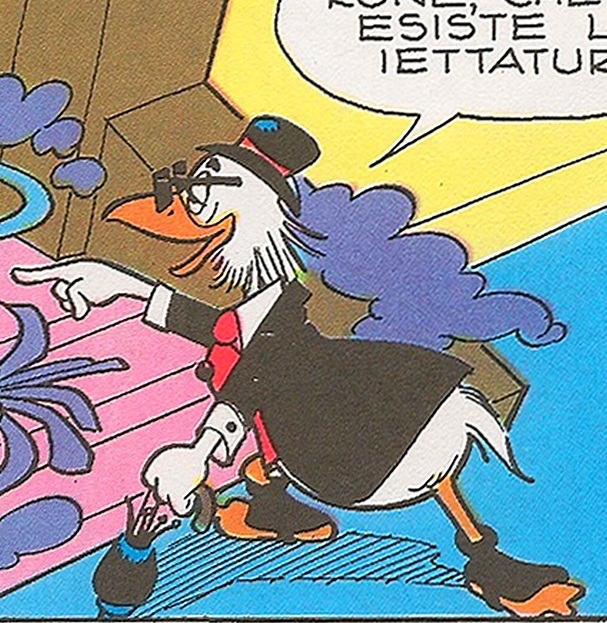 Apparently, this guy's name in the original Italian text by Carlo Chendi is "Oscar Paperone". If I understand correctly, Paperone is also Gladstone's surname in Italian. Thus, it stands to reason that Oscar would bear the surname Gander in English. Of course, this doesn't mean he's Gladstone's brother, but the fact that he bears the surname Gander and is stated to be both a nephew of Scrooge McDuck and a cousin of Donald Duck (at least according to his Picsou Wiki page) certainly lends credence to the idea. Curiously, the character also has a connection to luck. He is believed to by all to a bad luck charm that causes misfortune to himself and those around him, if I understand correctly. Also, the Picsou Wiki claims that he is shown to be calm, kind, and honest. Overall, he seems to be the exact
opposite
of Gladstone. Whether this enhances or devalues the argument for him being Gladstone's brother is up to you.
This next possible Gander brother is perhaps the most obscure, yet most intriguing. He is the unnamed
Jeweler (?).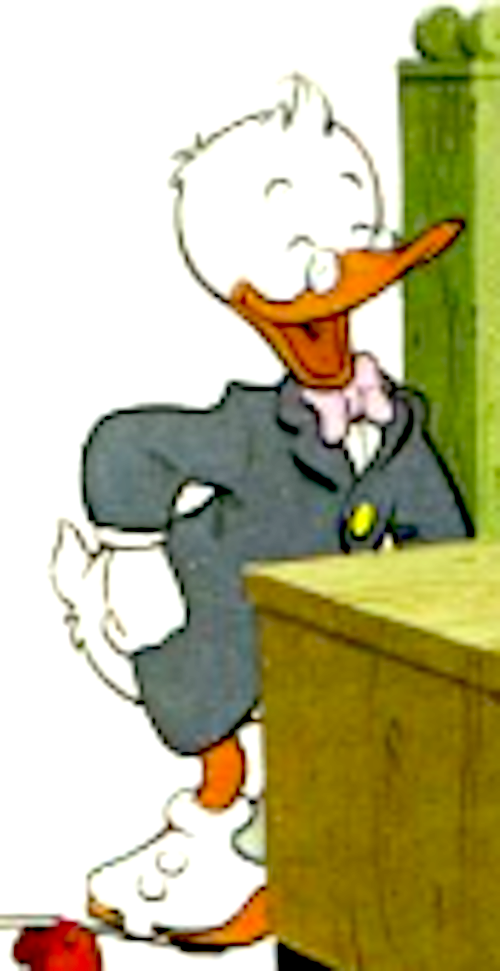 His first appearance was apparently in something called
Inspector Clumper,
which I know absolutely nothing about. Hopefully someone who does can tell us more about it. He would later appear or be mentioned in a few short stories published in the book
Walt Disney's Story A Day For Every Day of the Year: Summer Edition.
Of course, he also appeared alongside Cinderella in at least one of these stories, so I suppose that complicates things for those of us who would like to keep Duckverse relatively Cinderella-free.
There's not a whole lot about him to suggest that he's Gladstone's brother, but there are a few things. First of all, he looks quite a bit like Gladstone, doesn't he? The small eyes, fashion sense, affinity for spats, and even his beak all seem pretty Gladstone-like to me. I'd say he resembles Gladstone even more than Oscar does. Also, he apparently refers to Scrooge as "Old Uncle Scrooge" in one of his appearances. This doesn't prove too much. Characters like Mickey have referred to Mr. McDuck as "Uncle Scrooge", too, if I'm not mistaken; but it does prove that there is some sort of a close relationship between this fellow and Scrooge. Coupling this with his great resemblance to Gladstone, and I think there's a pretty decent argument to be made that he's a Gander brother.
The Scrooge McDuck Wiki mentions a
Keystone Gander (?)
on its
Goosetave Gander
page. I'm not sure where this name originated from. I suspect it's just a placeholder name/fanname for the anonymous father of Shamrock, though I can't say for sure.
Finally, in
his family tree from a couple of years ago
,
Scrooge MacDuck
suggested that the father of Shamrock could be named
Gescroo Gander (?)
. Apparently, this name is a translation of "Soupic", the name of a figure who appears beside Gladstone on a Duck family tree in
this story,
if I understand correctly.
All in all, that gives us no less than five potential brothers for Gladstone: Sadstone, Oscar, the jeweler, Keystone, and Gescroo.
Well, that's all for this post, but rest assured, these are not all of the siblings I have uncovered. In the next post, I'll list all the siblings of major Mouse universe characters I can think of. Please be sure to tell me of any siblings I didn't know about, any pieces of evidence that a character does or doesn't have siblings, and any theories or headcanons you have regarding characters and their siblings.